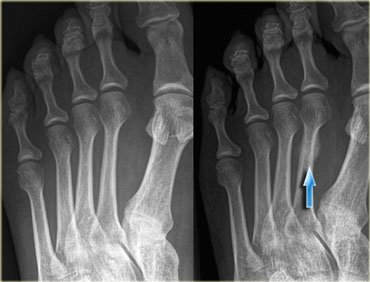 In discussing a case of stress fractures with some friends recently, the concept of Load vs. Mechanics was discussed.
"It's all load. Too much running, too much conditioning heading into the season," suggested the athletic trainer in the room.
"No, no, no – that kid was set up to fail from the start. She's got funny feet and that's the reason. Everyone else ran the same distance and didn't have a problem."
The conversation ultimately boiled down to this:
Are you applying an unreasonable amount of load to normal mechanics or are you applying a reasonable amount of load to unusual mechanics?
Yes, too much load too fast will always get you there, but having "abnormal" mechanics will certainly ensure that you get there a whole lot faster.
My father would always tell me that every time you point your finger there are three others pointing right back at you.
So the next time your athlete walks in reporting a stress fracture don't be so quick to point the finger at the group down the hall, and instead ask yourself if that athlete suffered their injury from load or mechanics and what you did to screen, monitor and address the problem BEFORE it sidelined them.
Art Horne is the Coordinator of Care and Strength & Conditioning Coach for the Men's Basketball Team at Northeastern University, Boston MA. He can be reached at a.horne@neu.edu.