BSMPG is proud to announce Andrea Hudy as a speaker within the Basketball Specific Training Track for the 2012 BSMPG Summer Seminar, May 19-20, 2012 in Boston MA.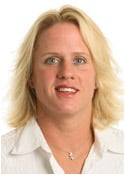 ANDREA HUDY
University of Kansas
Andrea Hudy joined the Kansas staff as the Associate Director of Strength and Conditioning in September 2004. She was promoted to Assistant Athletics Director for Sport Performance in July 2008. Since her arrival Hudy has handled the strength and conditioning responsibilities for the Kansas Basketball.
Hudy came to Kansas after nine and a half years at the University of Connecticut, where she worked closely with the Huskies' national champion men's and women's basketball teams. In all, Hudy was part of eight national championship teams while at Connecticut - two men's basketball; five women's basketball; and one men's soccer.
Including the seven Jayhawks that have been drafted in the NBA, she has worked with 25 former student-athletes who went on to play in the NBA. A native of Huntingdon, Pa., Hudy was a four-year letterwinner in volleyball at Maryland where she graduated in 1994. Her freshman season at Maryland, she was a member of the 1990 ACC volleyball championship team.
Hudy earned her Bachelor of Science degree in Kinesiology at Maryland and her Masters in Sport Biomechanics from Connecticut. She is a certified strength and conditioning specialist by the National Strength and Conditioning Association and a USAW Level I Coach.

Andrea Hudy has worked with 25 NBA players (current and former)
Cole Aldrich, Kansas
Ray Allen, UConn
Rashad Anderson, UConn
Hilton Armstrong, UConn
Darrell Arthur, Kansas
Josh Boone, UConn
Denham Brown, UConn
Scott Burrell, UConn
Caron Butler, UConn
Mario Chalmers, Kansas
Sherron Collins, Kansas
Khalid El-Amin, UConn
Rudy Gay, UConn
Ben Gordon, UConn
Richard Hamilton, UConn Xavier Henry, Kansas
Darnell Jackson, Kansas
Travis Knight, UConn
Keith Langford, Kansas
Donny Marshall, UConn
Aaron Miles, Kansas
Emeka Okafor, UConn
Brandon Rush, Kansas
Wayne Simien, Kansas
Charlie Villanueva, UConn
Jake Voskuhl, UConn
Marcus Williams, UConn
Julian Wright, Kansas
Marcus Morris, Kansas
Markieff Morris, Kansas
Josh Selby, Kansas
_______________________________________________________________________________
Famously uttered by Sir Isaac Newton,
"If I can see further than anyone else, it is only because I am standing on the shoulders of giants."
In 2011 BSMPG invited the titans of Sports Medicine and Performance to Boston for the largest conference of its kind, and many attendees left asking the question, "how could you ever top that speaker line-up?" Well, we did. BSMPG is proud to announce May 19-20, 2012 as the selected date for Sports Medicine and Strength professionals to desend upon Boston MA for another monster conference!
So how could we ever top last year's speaker set?
Let's just say that we asked last year's speakers who they wanted to hear and we got em!
Stay tuned over the next few weeks as we reveal our entire 2012 speaker set. As we did last year, this seminar will be divided into three distinct educational tracks including a Hockey focus, a Basketball Focus and a clear Sports Medicine/Rehabilitation Track with Keynote Speakers throughout the weekend bringing each track together for common lectures. Attendees may choose to stay within one track throughout the entire weekend or mix and match to meet their educational needs. Remember to save the date now - you won't want to miss another great summer seminar presented by BSMPG.
May 19-20, 2012 - Boston MA. Complete details coming soon!