JONAS SAHRATIAN
University of North Carolina - Chapel Hill
Topic: Work Capacity Methodologies For Basketball
Among the top strength & conditioning coordinators in the college game, Jonas Sahratian enters his sixth season with the Tar Heel men's basketball program after serving in the same capacity at the University of Kansas for five seasons.
Sahratian coordinates strength and conditioning for men's basketball and also works with the diving team. He has been a part of three Final Fours and NCAA championships in 2005 and 2009.
He worked with Carolina head coach Roy Williams in Lawrence from January 1999 to April 2003. He also coordinated strength and conditioning for the volleyball, swimming and diving teams at Kansas.
A native of Detroit, Mich., Sahratian graduated from Western Michigan University in 1997 with a bachelor of science degree in exercise science. In 2000 he received his master's in exercise physiology from Kansas.
In addition to working with Kansas athletics, Sahratian interned for two years at the Chicago Bulls/Vermeil's Sports and Fitness in Deerfield, Ill. He worked in Chicago during the Bulls' NBA championship seasons in 1996-97 and 1997-98.
He is a certified strength and conditioning specialist through the National Strength and Conditioning Association and a certified club coach through USA Weightlifting. Sahratian (pronounced suh-RAY-shun) and his wife, Grechen, reside in Durham.
Speed Drills by Sahratian featured in Stack
Conditioning Drills by Sahratian featured in Stack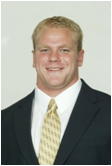 BRENDON ZIEGLER
Oregon State
Topic: Weightlifting And Basketball: The Why And the How
Weak, slow, poor postured, inflexible basketball players are all too common. Weightlifting is a method for addressing these issues along with a myriad of others. Don't paint yourself into a corner with a "hang clean only" approach. This presentation will explore weightlifting progressions and how they can be applied to a basketball strength and conditioning program. Height and length can be difficult attributes to overcome on the platform, but a well-planned progression with little coaching can easily overcome these challenges.
Brendon Ziegler is in his fifth season at Oregon State where he serves as the strength and conditioning coach for the men's basketball team. In his duties, Ziegler handles all strength and conditioning duties for the men's basketball squad, including lifting and strength work, core training, speed and agility drills, flexibility drills as well as conditioning. He also coordinates all off-season conditioning programs. Prior to Oregon State, Ziegler served in similar positions with Hawai'i, Wisconsin and the Chicago Bulls of the NBA.

Ziegler is certified through NSCA-CSCS and USA Weightlifting. A native of Edgerton, Wisc., Ziegler was a four-year starter in football at Hamline University and is also a competitive weightlifter.
RAY EADY
University of Wisconsin
Topic: Isometrics To Improve Strength And Speed Performance In Female Basketball Athletes
Ray Eady is currently the strength and conditioning coach for the women's basketball program at the University of Wisconsin. He has been the strength and conditioning coach for the Wisconsin basketball program since 2008. Previously, he was the head strength and conditioning coach for men's and women's basketball at the University of Akron in Akron, Ohio (2004 - 2008) and Northeastern University in Boston, MA (2003 - 2004).
Originally from Springfield, Massachusetts, Eady holds a Masters degree in Exercise Physiology from the University of Akron and is a Certified Strength and Conditioning Specialist (NSCA – CSCS), a Performance Enhancement Specialist (NASM – PES), and a Club Coach with the United States Weightlifting Association. He is also a member of the Black Coaches Association (BCA).

GEORGE MUMFORD
Sports Psychologist, 6-time NBA Champion
Topic: Playing The Inner Game Of Basketball
George T. Mumford is a Sports Psychology Consultant, Personal and Organizational Development Consultant, Executive Coach and an Insight Meditation Teacher. As a Sports Psychology Consultant, he has worked with the Los Angeles Lakers (1999-2003) and the Chicago Bulls (1993-1998), as part of Phil Jackson's support staff. During that time, Jackson's teams won six NBA World Championships: the Chicago Bulls won three (1996-98) and the Los Angeles Lakers won three (2000-2002).
George is currently working with Boston College Men's Basketball; Vanderbilt Men's Basketball; and Northeastern University Women's Field Hockey Teams. He consults with other athletic departments and other organizations and private clients. Some of his clients include Olympic Athletes, Athletic Organizations, Coaches, Senior Athletic Administrators, and Athletes competing in a variety of sports (Soccer, Volley Ball, Football, Baseball, Field Hockey, Ice Hockey, Golf, Figure Skating, Fencing, and Softball). He also works as an Executive Coach with clients including corporate executives, medical doctors, and individuals. While working at the University of Massachusetts Medical Center, Worcester Massachusetts, Department of Preventive and Behavioral Medicine, Stress Reduction Clinic, He developed and implemented Mindfulness-based Stress Reduction Programs for an Inner-city "Satellite" Clinic and several Massachusetts Correctional Institution Facilities.
George is a nationally recognized public speaker and has presented over the year at numerous conferences and events such as the UC Davis Health System Alternative and Integrative Medicine for Pain Management Conference, Wharton School of Business's The Wharton Leadership Venture on Self-Awareness program titled "Leading from Within", and the "Healing through Great Difficulty: a meeting between His Holiness the Dalai Lama former Prisoners and Meditation Teachers", held in New York City.

Read how George Mumford is helping this year's Laker team.
LA Times Story - Feb 11, 2011 - Minds Matter To Coach Phil Jackson

BRIAN MCCORMICK
Founder, Youth Basketball Coaching Association
Performance Director, Train for Hoops
Topic: Strength & Conditioning Coaches and Movement Skill Education
McCormick is a basketball coach, trainer and author. He coached the Visby Ladies in the Swedish Damligan (women's pro league) and UCD Marian in Ireland's Men's SuperLeague. He also has coached youth, AAU, and high school teams and assisted at the junior college and college levels in California. As a coach and clinician, he has traveled to Canada, China, Greece, Macedonia, Morocco, South Africa and Trinidad & Tobago to direct camps or speak at clinics.

McCormick is a certified strength coach through National Strength & Conditioning Association (CSCS), National Academy of Sports Medicine (PES) and USA Weightlifting (SPC).

As the Performance Director for Train for Hoops, McCormick wrote a year-round periodized general strength training and off-season skill development program for youth and high school players and maintains a blog that covers all areas of player development.

After publishing Cross Over: The New Model of Youth Basketball Development in 2006, he founded the Youth Basketball Coaching Association to create a certification and coach education curriculum for volunteer youth basketball coaches.
McCormick also transformed another of his nine books, Developing Basketball Intelligence, into a developmental league, Playmakers Basketball Development League, which operates in more than six states in 2010.
McCormick lives in Irvine where he works as a personal train at the U.C. Irvine Recreation Center, trains local high school basketball players and writes the free weekly Hard2Guard Player Development Newsletters. To subscribe, email hard2guardinc@yahoo.com or follow Brian on twitter @brianmccormick.
Basketball Track Also Includes LECTURES from the following: