Physicians

MININDER KOCHER
Children's Hospital Boston
Mininder S. Kocher, M.D., M.P.H., is the Associate Director of the Division of Sports Medicine at Children's Hospital Boston and is an Associate Professor of Orthopaedic Surgery at Harvard Medical School. He received his undergraduate degree from Dartmouth College then graduated with honors from the Duke University School of Medicine. He completed orthopaedic training in the Harvard Combined Orthopaedic Residency Program at Massachusetts General Hospital, Brigham & Women's Hospital, Children's Hospital Boston, and Beth Israel Hospital. Dr. Kocher completed a pediatric orthopaedic fellowship at Children's Hospital Boston, a sports medicine and arthroscopic surgery fellowship at the Steadman Hawkins Clinic (Vail, Colorado), and an Orthopaedic Research and Education Foundation (OREF) clinical research fellowship at the Harvard School of Public Health.
Clinically, Dr. Kocher's specializes in pediatric, adolescent, and adult sports medicine. He is a well-recognized international expert in pediatric sports medicine. He has particular interests in anterior cruciate ligament injuries in skeletally immature patients, osteochondritis dissecans, articular cartilage injuries, tibial spine fractures, shoulder instability, shoulder arthroscopy, little league elbow, hip arthroscopy, hip labral tears, patellofemoral instability, meniscal injuries, and ankle instability. He is the head team physician for Babson College and the Boston Public School Sports Medicine Initiative, as well as the Head Surgeon for Northeastern University. He is a physician for the Boston Ballet, the US Ski Team, USA Track and Field, the Boston Marathon, and US Figure Skating.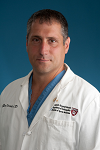 GIAN CORRADO
Children's Hospital Boston
Gian Corrado, M.D., is the Head Team Physician for the NCAA Division I Huskies of Northeastern University as well as a physician in Children's Hospital Boston's Divison of Sports Medicine. He received his Medical Doctorate from Loyola Stritch School of Medicine in Chicago after which he completed a residency in Emergency Medicine at the University of Chicago before going on to complete a fellowship in Sports Medicine at Children's Hospital.