by Steve Scalzi
It seems that due to the circus surrounding his recruitment, his departure, and his destination, LeBron James has become one of the most divisive figures in sports. In April of last season LeBron was one of the most revered personalities in the game, earning himself his first MVP award and seemingly on a collision course to match-up against Kobe Bryant in a classic NBA Finals.
That was never to be. And my how things can change in one year. James' 2009 Cavaliers were eliminated by the Orlando Magic starting one of the most interesting downward spirals in recent memory. Cleveland rebounded from their unceremonious exit to once again seize the best record in the NBA in 2010 and LeBron James had a dominant regular season earning himself his second MVP trophy. However, as the season wore on, and the media hype surrounding his impending free agency came on strong, all was not well for King James and his Witnesses. Running into a motivated and healthy Boston Celtics, the Cavaliers were eliminated in the second round despite 61 regular season wins and the uncertainty hovering over LBJ's free agency options loomed.
How he handled the free agency process in July 2010 has put an awfully sour taste in the mouth of most American sports fans. If you ask me, I jumped off the LeBron James train a year prior and for vastly different reasons. My qualms have little to do with how he handles himself off the court. If anything, my biggest qualm with LeBron James is his pre-game behavior. Every team has its own camaraderie, chemistry, rituals and so forth. On the surface, the Cleveland Cavaliers of the past two seasons appeared as a tight knit group living their dream scenario - playing with a transcendent player in a city that adores them. Announcement of the starting lineups was a show in and of itself - players pretending to pose for pictures, go bowling, play charades you name it.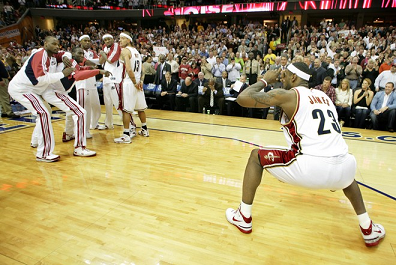 At first, I loved that an NBA team unabashedly showed their enjoyment of the moment. They were grown men playing a game, flat out admitting their love for the opportunity. They would bounce back after tough road trips, pick each other up when knocked to the floor, leave their seat on the bench to cheer highlight plays. The Cavs seemed like a lovable group and LeBron was the ring leader stamping his seal of approval on the endearing antics.
But when the Cavaliers ran into opponents they couldn't handle, particularly the '09 Magic and the '10 Celtics, those antics changed. Their demeanor looked almost fearful, sheepish in big moments. And LeBron, a man who tattooed "Chosen 1" on his own back, ducked from the big moments. Did he play poorly? At times. All teams amidst elimination aren't playing up to their best. Worse than his performance was the change in his act. Little pregame goofiness. Few smiles and encouragement. The loosest team in the NBA became tight, afraid of clutch spots, and well, virtually leaderless.
The issue isn't that LeBron engaged in goofy pre-game antics or presented himself and the team as loose, yet focused. The issue I have is that in big moments he completely veered away from this. An NBA team can win with a multitude of leadership styles. Can an NBA team be successful with a fun-loving leader? Let's not forget Magic Johnson. Can they win with a stone cold killer?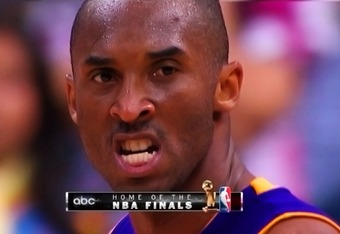 Kobe Bryant has done a decent job. A leader who barely spoke? Hakeem Olajuwon won two NBA titles as such. An ultra-competitive dictator? MJ's teammates would say he did ok.
Changing one's leadership style, more specifically, changing one's game face from moment to moment is poisonous to a team's success. Whether it be a regular season game in December or a playoff match-up in May, LeBron James should not be a chameleon catering his reactions to the intensity of each moment. Of course, a seven game playoff series brings an entirely different demand on a player's focus and the organization as a whole over a preseason game. But, I argue the face of a franchise should take ownership of his leadership style, stand firm in his personality, and show the rest of teammates that no matter the moment, they have the same captain at the helm, ready to lead.
This consistency is so key in fact, I believe it should carry over to practice and training sessions. A player's demeanor and approach should remain the same in virtually all scenarios. You can't own an ever-changing game face. Can a leader be the class clown in practice, yet turn serious only in games? Can a player be rambunctious during competition, yet quietly go through the motions in a weight room? The inconsistencies create too much uncertainty and in big moments teammates and coaches aren't sure what type of player will show up. Coaches have a responsibility to harbor and embrace the personalities of their players, to understand the core characters that are coming together to form a team, and create environments where there is consistency in their approach albeit in the weight room, at practice, or in the final minutes of a playoff game. Consistency in this way is a challenge that only championship teams generally reach. Miami may offer a loaded roster that trumps his Cleveland team. But I'm not sure they'll be successful there until LeBron realizes in the past he failed his teammates as much as his teammates failed him.