by Steve Scalzi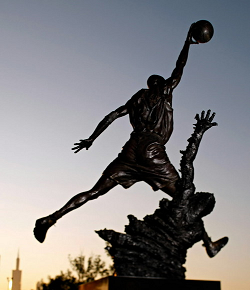 Close your eyes. Envision the dreams and aspirations you've held inside of you. Is it completing a degree? Sitting on the porch of your dream home? Leaving the green room to be greeted by David Stern on draft night? Picture your end goal. Dwell in the satisfaction of achieving what you've always pushed toward - knowing that the work you've put in has culminated in something truly special.
Now go backwards. Envision the previous steps in the process of this ultimate achievement. Did you complete your degree because of academic diligence? Was the dream house achieved through sound investing? How about draft night? What did you do to separate yourself in the scouting process? Perform on a big stage? Compose yourself as Charlie Weingroff, Keith D'Amelio and Mike Curtis suggest?
Continue to go backwards. How were you admitted into that academic institution? What jobs did you hold as you built credit for that mortgage? How did you build your body and your skill set to be considered an NBA prospect?
Never was this exercise so eloquently narrated and executed than in the Jordan Brand's 2008 Commercial. Beginning with a glimpse of Michael Jordan's iconic "jumpman" statue outside the United Center, with the Chicago skyline graciously paying homage to its own, Nike takes us on a journey through Michael's life. Set to the voice of the G.O.A.T., we see recreations of MJ's childhood home, his college dorm room, the legendary Hoops the Gym in Chicago's West Loop, a quiet Laney High School, and lastly Michael's very own trophy room in his home - adorned with the center court Chicago Bulls logo he purchased after the destruction of his beloved Chicago Stadium.
Through it all, Michael presents us with a series of "maybe's."
"Maybe it's my fault," he ponders.
"Maybe I led you to believe it was easy, when it wasn't. Maybe I led you to believe that my game was built on flash, and not fire. Maybe I led you to believe that basketball was a god given gift, and not something I worked for, every single day of my life."
Michael challenges the viewer, implying, maybe, just maybe, you're failing to reach my level, because you've failed to recognize the necessary steps... "or maybe, you're just making excuses."
Too often people have a lofty end goal in mind - clouded by the visions of grandeur, they confuse that goal as the single outcome they're driving toward, failing to recognize that after a degree comes the real world. Even dream homes have a mortgage, and making an NBA roster doesn't guarantee you stay. The real daunting task isn't the end goal, its recognizing the world as it truly is. Knowing your limitations, assessing where you're beginning and understanding what you'll have to do to get to that next step every single day of your life.
When I arrived at Northeastern University at twenty-two years old, I felt so fortunate to be given an opportunity at the Division I level. After being a student assistant with Boston College basketball, enjoying time in both the Big East and their transition to the ACC, I thought it possible, like many young coaches, I would chase a return to that level for years. Never did I envision being given an immediate chance upon graduation to build a program in one of the nation's premier mid-major conferences. I didn't invent the game, I likely won't revolutionize it, I just wanted to be a young coach who soaks up his chance. Carry no ego and enjoy the ride. While this may have been a gracious mental approach, at times I was almost apologetic. Sheepishly wondering how I could be so lucky.
"Stop wondering how you got here. Stop feeling lucky to be here. Start figuring out how you'll stay here. How are we going to build this thing?"
Spoken in my first meeting with our Head Coach, Bill Coen, those words have resonated with me from day one. I foolishly confused Division I basketball with flash and not fire. Basketball is not a god given gift. It's something you have to work for every single day of your life. As coaches, athletic trainers, and students of the game, we at BSMPG are in a unique position where it is our job to help others arrive at their lofty end goals. Next time a player says he wants to play in the league, we're in no position to tell him he's naive. That's not for us to decide whether he can. But we can help him see the reality of the challenge. Paint the picture as it truly is. Put him in position to be successful by making sure that when he envisions the end goal, the necessary steps are clearly illuminated.
Help your players create their own cinematic commercial in their mind, filled with scenes from their lives, the habits, people and places that have influenced their rise to success. Become a fixture in their images and enjoy where their ride takes them. Michael challenges us to "become legendary" - this won't happen without a vision. Not without a sense of where you're going and how to get there.