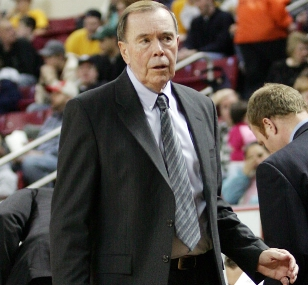 by Art Horne
Coach Murphy, you won over 600 basketball games (602-263) while you were at Hamilton College. Besides the natural ability to put the ball in the basket, what physical qualities did you look for while recruiting players at Hamilton and now at Northeastern University?
• Quickness: can they change direction quickly? Closeout on a shooter? Are they able to pressure the ball during a full-court press and then get to their next assignment?
• Hand-eye coordination: are they able to handle bad passes? Can they catch and handle the good passes as well as make good passes to their teammates?
• Foot speed: and how well they move their feet. Can they open their hips and swing their feet around to establish position? Can they recover and defend after being crossed-over?
• Conditioning: this could always be improved upon once they arrived on campus so I never held it as a must when evaluating kids. But if they weren't in shape in the first place seldom were they able to show you that they could move their feet or coordinate passing and catching due to fatigue.
Legendary Princeton basketball coach Pete Carril once said that the ability to rebound was inversely proportioned to the number of cars that his players had in their garage. Beside pure physical attributes, what do you look for in a basketball recruit?
ATTITUDE: 95% or maybe even a greater percentage of coaches recruit pure ability, but I look at attitude. Players need to be a good teammate; they have to have the right attitude. No matter how much ability they may have, if they have a bad attitude they will never be as successful as they could have been with the right attitude.

How has college basketball changed from when you coached to today? How has the players changed?
The addition of the 3-point line has changed the game the most. I think it was the year that Pitino went to the final four with Providence. He figured it out before a lot of other coaches – 3 points are better than 2. That year I think his team shot the most number of 3-pointers in Division One and we shot the most 3-points in Division Two at Hamilton. The 3-point line changed spacing on offensive and really stretched defenses.
A lot has been made of how a few professional athletes have handled their business off the court. How has these professionals influenced the players that you deal with today?
I just hope that the basketball players today have learned from both the positive and negative actions of the guys that have done it before. A lot of people focus on the guys that have made mistakes, Antoine Walker comes to mind (recently in jail) and we can use those examples to demonstrate to our players what not to do, but there are many positive examples that we can use as well such as Jerry West and Ray Allen, guys that are professional and respectful in every facet of their lives.
What does LeBron's recent ESPN show, "The Decision," say about the culture of basketball and where do you think it is heading?
LeBron is still young and young people make mistakes. Announcing your decision to join a new employer/team on national television is not the way to go about business. Especially without speaking to your current employer about your decision first. The game will survive LeBron, but LeBron's shine has clearly faded after his "decsision."
While at Hamilton you were famous for your conditioning drills. Can you share your favorites?
• We would run 11 down and back in a minute at the end of a practice. If you could run 11 lengths in under a minute you were pretty fit.
• We would also run baseline to baseline for as many repetitions as possible over 3 minutes. The Boston Celtics use this run and we still use it at Northeastern. It's as much a conditioning test as it is a test of mental fortitude.
• Lane Slides: I would have our athletes hold bricks with their hands out to the side and do as many lane slides as possible for 30 seconds. Bigs would have to get one foot outside the lane and guards both feet out.