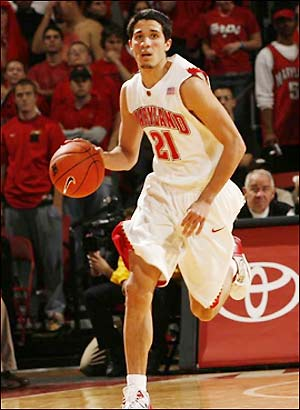 By Liz Clarke
Washington Post Staff Writer

It starts with Maryland's basketball players standing on opposite sidelines, crossing one foot over the other and rocking back and forth to stretch their feet and ankles.
Next comes a series of choreographed forays across the width of the court and back, in which the Terps move like dancers in a Thriller video - skipping, high-step jogging, crab-walking sideways. That's followed by a sequence inspired by yoga's Warrior Pose in which players adopt a stance resembling a runner frozen mid-stride, then touch the floor, reach skyward, twist at the waist and repeat.
Maryland's eight-and-a-half minute, pregame stretching routine - conducted while most opponents shoot lay-up after lay-up at the opposite end of the court - is called "Movement Preparation." And it's designed to get the Terps' muscles ready for the full range of explosive movements demanded by the 40 minutes of competition to come.
It's just one aspect of the men's basketball team's strength and conditioning program that's unlike that of most other colleges in that it blends concepts from professional football and baseball regimens, as well as yoga - all with the goal of improving players' mobility, stamina and confidence.
The program was developed by a former Penn State offensive lineman, Paul Ricci, who spent nine seasons training the Baltimore Ravens for the rigors of the NFL before joining the Terps.
Though it's tricky to draw a direct link between gym workouts and on-court results, the Terps have had just one missed game and one missed practice by a starter in two-and-a-half years. And players, to a man, say they're in the best shape of their lives.
"We are stronger," says Coach Gary Williams. "And we are quicker."
Sophomore center Jordan Williams is a case in point.
As a standout at Torrington (Conn.) High School two years ago, the big center was viewed by most recruiting gurus as more of a project than a blue-chip prospect - a late-bloomer wrapped in a bit too much baby fat. "Runs the floor reasonably well," declared ESPN's 2008 Player Evaluation. But "needs to continue to improve his footwork and post moves . . . [and] continue to improve his body."
Since joining the Terps, Williams has shed more than 20 pounds, pared his body fat from 19.5 percent to 12 percent and seen his performance and stamina soar.
In the Terps' last game, the Dec. 12 loss to Boston College, Williams delivered his ninth double-double of what is proving a remarkable statistical season, looking every bit a contender for college basketball's Naismith and Wooden awards. Moreover, he played a career-high 38 minutes - unfathomable as recently as last spring, when Williams got winded banging bodies with the ACC's big men after just 25 minutes.
"He has changed my whole physique," the sophomore center says of Ricci. "It's like night and day from when I came in here. I give him a lot of credit."
The pregame stretching is a small part of the Terps' strength conditioning program that also includes weight training after home games, even if it's 10 p.m. or later. The 15-minute sessions are voluntary, Ricci notes, but well-attended, designed to help players get a jump on the recovery process and mentally unwind after games.
And it entailed a grueling regimen this summer in College Park, in which the Terps pushed heavy sleds back and forth across the Comcast Center loading dock, ran sprints in August's sweltering heat and lifted in the gym.
There's a philosophy behind each of these exercises. And it's a radical departure from the prevailing wisdom about how basketball players should prepare in Gary Williams's playing days as a Terp in the mid-1960s.
"You weren't allowed to lift weights," the coach recalls. "The theory then was that if you lifted weights, it would restrict you as a shooter and you'd get too tight, too muscular. Also back then, you weren't allowed to drink water during practice."
Water, many old-line coaches believed, caused cramps. Worse, they viewed thirst as a sign of weakness in players. So they gave them salt tablets instead, exacerbating their dehydration.
Williams concedes he's no expert in exercise physiology. But he liked what he heard about Ricci after the Ravens' coaching staff disbanded following Brian Billick's ouster and invited him in for an interview.
"Part of coaching is you have to know your weaknesses," Williams says. "I knew we needed a good strength program for our basketball players."
After hiring Ricci as Maryland's first director of basketball performance, Williams asked him to get the squad in the best possible shape for the start of practice, to develop each player to his potential, and to build a more explosive team capable of sustaining the press defense he favors.
Ricci consulted basketball trainers in the pro and college ranks to develop a program to accomplish just that. He borrowed the idea of postgame weight-training from his work with the San Diego Padres, where he learned that pitchers routinely lift weights after they've thrown. Many NBA teams also lift weights after games, though it's a rarity in college ball.
It has both physiological and psychological benefits, Ricci says. It jump-starts the recovery process by stretching players' muscles. It calms their nervous systems, which are invariably ramped up after games. And because few, if any, college teams lift weights after games, it gives the Terps confidence that they've outworked their opponents and can withstand a rigorous second half or overtime if need be.
But Ricci's first task was a sales job.
"The main thing about getting them in peak shape is shaping their attitude toward doing it," Ricci says. "A lot of these guys have not had somebody dedicated to them and dedicated to taking care of their bodies like a professional athlete. If they want to take it to the next level - whatever that might be - they have to put in the time right away."
Ricci found that his most powerful ally was any televised NBA game in which LeBron James participated: King James was Exhibit A of the merits of a sculpted basketball physique. Maryland's Greivis Vasquez also drove the point home, transforming himself from a lithe freshman to a muscular ACC player of the year and first-round NBA draft pick.
But initially, some of the exercises Ricci prescribed seemed foolish to Jordan Williams.
"A lot of the stuff! It was like, 'What are you doing?!' " the center recalls. "But when we feel the results, and see the outcome of what he has done for us, it's just remarkable. . . . Last year I probably averaged 24, 25 minutes a game, and throughout the game I found myself kind of tired. Now I think I can play at a good pace the whole game, with a break here and there."
For a more scientific way of gauging the Terps' fitness, Ricci uses a so-called "Bod Pod" - a $45,000 machine, acquired last year through a private donation, that measures body composition through the displacement of air when an athlete sits in one of the two cocoon-like chambers.
That way, players can compare their body fat to the NBA's guidelines (6 to 10 percent for guards; 11 to 14 percent for post players). And Ricci can monitor their progress. Any backsliding suggests an athlete has slacked off on his workouts or strayed from his diet.
Ideally, the Bod Pod will soon be housed in a new weight-room outfitted for the specific needs of Maryland's men's and women's basketball teams, to be located in 2,000 square feet of former storage space in the Comcast Center basement. The floor plan has been mapped out, and private fund-raising is under way.
Meantime, Ricci can tell the Terps are progressing by plain-old body language: the way they carry themselves and flaunt their chiseled physiques.
"You'd think these guys would be confident all the time, but you can really see it change their self-esteem," Ricci says. "Hopefully it builds some confidence when they're playing against the best players. They know they've paid the price."