by Andy Weigel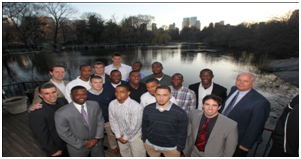 It was December 18th, 2010 in Oklahoma City and we had just walked off the court at the Ford Center. We had lost our 6th game of the young season, this one to Oklahoma State, dropping our record to 5-6. This loss unlike the others had a different feel. Although it was a loss, it was a step in the right direction. After the game, we came together as a team and for the first time all year there was a sense of optimism.
We went on to win 16 of our next 21 games, win the SEC West, finish second overall in the SEC and get knocked out in the semi-finals of the SEC tournament to Kentucky. That brought us to selection Sunday. We gathered as a team and watched as all 68 teams were selected, several who we had beaten and others who we had lost to. However, for this tournament we wouldn't be selected. That moment was a tough one as most coaches know. The dreams of playing in the NCAA tournament for four seniors was now over for good.
Later that night we were selected to the NIT tournament as the overall top seed. The rollercoaster year we had endured was continuing on the same path. This would prove to be another big test of character for our team. The emotional letdown of not making the NCAA tournament is huge! However, we still had a chance to once again come together as a team, continue to advance the direction of the program and compete for a championship in Madison Square Garden.
Our first challenge was hitting the practice court to prepare for our contest against Coastal Carolina. The limited time to prepare for the Chanticleer's was probably a good thing. We found out late Sunday night that we would be playing at 6 pm on Tuesday. During this time motivation and focus were obstacles. Our team's vision of being selected into the field of 68 was so strong that not getting in was certainly going to affect us. It was just a matter of how much and for how long. Could we refocus and readjust our vision to a different prize? During the next 48 hours, Coach Grant did a tremendous job of communicating to our players the opportunity we had and what his expectations were. This was coaching at its finest and if you want your athletes to display great character they need to be led by great character.
A different concern we had before our first round game was the atmosphere we would be walking into at home. We had become accustomed to loud sell-out crowds of 15,000 plus for our SEC season. Now, not only was it the NIT, it was also Spring Break! We all predicted dismal attendance numbers but to our delight, over 5,000 of the rowdiest die hard Alabama fans packed Coleman Coliseum. The great thing about the NIT is that seating is general admission, so all of the fans packed the lower portion of the coliseum creating quite an advantage. This spirit gave all of us a great unexpected boost. We went on to beat a very competitive Coastal Carolina team 68-44.
With the NIT, there is some uncertainty of when you'll play based around ESPN's broadcast schedule. There are a handful of possibilities, but you really do not know. The waiting game had begun and with that we had a couple days off before preparation for our second round opponent New Mexico. Eventually, our schedule was set for a tip-off at 8 PM on Monday night and the winner would advance to play again on Wednesday with a trip to New York City on the line. After two days away, we came back and had a team lift that went pretty well considering it was Friday at Noon during Spring Break. A few years ago I heard Vern Gambetta speak and he made a comment that has resonated with me ever since. Vern said, "You need to win the workout!" That was a very powerful concept. For the circumstances that we were in, I knew that we needed to "win the workout," it would have a tremendous impact on the rest of the day. With that in mind, I threw a "game winner" in the workout; bench press. I also added a few cheese and broccoli (great exercise in disguise); clear the hips to curl and press. They get the curl and I get some front butt hip extension with a 1-arm vertical press, we all win. I also threw in a challenge of switch grip pull-ups. One of our player's strong qualities is that they are ultra-competitive. When they hear "challenge" it gets them excited and that is exactly what switch grip pull-ups will bring out; a competitive challenge. I felt we won the workout which helped us transition into a good practice as well.
After Saturday and Sunday practices we came back Monday ready for a physical and explosive New Mexico team. Our passionate fan base was out in full force again as we prevailed 74-67. Next up were the Miami Hurricanes. The stakes were much higher with a potential trip to New York City and the chance to compete for the NIT Championship in Madison Square Garden. Our new prize was becoming clearer and we were starting to distance ourselves from the heartache of missing out on the NCAA tournament. Not only were the NIT semi-finals at stake but we also had a perfect record at home on the line. Once again Wednesday night, Coleman Coliseum was rocking and we brought home the victory, 79-64 and capped off an undefeated season at home, finishing 19-0! The next step was New York City.
Thursday we let the guys recover physically and mentally with an off day from workouts. On Friday we reconvened and went with a post/guard split. The post players would start in the weight room and get in a 30-40 minute lift, while the guards would be on the court doing skill work. Eventually we would flip flop and I would finish with the guards. The focus was a lot better now as the reality of a championship and playing at "The Garden," were only a few days away. We practiced Saturday in preparation for our Tuesday contest with Colorado. Sunday morning we flew to New York and checked in at the NIT host hotel, Marriott Marquis. It was conveniently located in the middle of Times Square which has both its advantages and disadvantages. After quickly dropping off our bags and grabbing a snack we headed to practice at NYU in Manhattan. If there is one challenge I haven't mastered yet, it's the "post plane practice." Sitting on a plane for 2 ½ hours, bus for 1 ½ hours, then practicing in an unfamiliar setting with a different, older floor is the recipe for a poor practice. This makes the warm-up really important. Even if practice is not great, their bodies need to be turned on and ready to go. However, this doesn't guarantee a good practice.
Monday we practiced at Baruch College and then later on headed to an NIT dinner in Central Park. For a tournament banquet to be a success it needs to be short in length, have good food and run smoothly. This one was a success. It met all of those qualities and we even had a chance to take a team picture with a great back drop.
Tuesday was game day and we finally had the chance to shoot around in the Garden. If you've never been to the Garden before you're in for a shock. This was my 2nd time so I knew that it was an older building and currently undergoing renovations. I would say most of our players were shocked by the freight elevator we took from ground level to court level. What makes it special is the history, the atmosphere and the face that it resides in the greatest city in the world. Eventually we made our way onto the court and had a good shoot around. Our semifinal game that night was against an explosive Colorado team, who a few weeks earlier went through the same tournament letdown we had endured. It was a back and forth game and we were fortunate to hang on for the 62-61 victory as Colorado missed a shot at the buzzer. Now our season would end on Thursday night in the NIT championship game.
Wednesday, Coach Grant wanted the players to experience New York while they had the opportunity. So several of us got on our team bus and toured the city for a couple of hours. We viewed Ground Zero, the Statue of Liberty, Ellis Island, and the Brooklyn Bridge. We finished off the trip with a ride to the top of the Empire State Building. Later on we had a walk-through on Wichita State, our opponent in the championship game.
Thursday marked the end of our season and wild ride. We lost a tough one to a really good Wichita State team. I give them tons of credit; they were the better team that day. This was a team who earlier in the season took UCONN to the final minute in Maui. The Shockers, just like us, could have been in the NCAA tournament.
When I look back at our experience, I feel there are a lot of misconceptions about the NIT. It is a good tournament and there is a lot of value to gain. I think it will help our players and program in the long run. I also believe that it will be a confidence boost for our player's that leads us into the future. The experience can be really rewarding if you approach it the right way. Most importantly the NIT gives you an opportunity to continue playing. Regardless of the heartache of missing the NCAA tournament, if you truly love the game, it won't matter what tournament you're in as long as you're still playing.