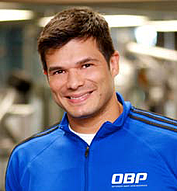 Desmond Santiago
Puerto Rico
Desmond Santiago began his career as a trainer in 1997 in one of the best gyms of that time: The Caparra Fitness Club. Later in 1999, Desmond ventured to Power House Gym where he worked independently and quickly became one of the most sought out trainers in the gym. In the year 2001 he founded Optimum Body Performance. The aim was to create a team of professional trainers all certified and well prepared to provide top-notch service to clients, designing and providing exercise and fitness programs, geared toward the goal of the clients.
Desmond's passion and continual pursuit for quality, brought him to establish his own training facility in the year 2005. There he created and implemented innovative and successful performance enhancement training programs for his athletes and members. Desmond soon developed a reputation and established himself as the best in Puerto Rico, allowing Optimum Body Performance to open its second facility in the year 2008 at the Natatorium in Central Park, Puerto Rico.
Desmond is a National Academy of Sports Medicine (NASM) Performance Enhancement Specialist (PES) and a National Strength and Conditioning Assoc. (NSCA) certified Personal trainer (CPT). Trained and mentored by some of the best performance enhancement Coaches in the US.
Desmond Santiago currently serves as the strength and conditioning coach for the Puerto Rico National Basketball Team, as a writer for ESPN Deportes "La revista", as a speaker and educator in the fitness and performance enhancement industry, as a performance enhancement coach to athletes of all levels , but above all as the president of Optimum Body Performance, where he ensures OBP lives up to his Vision and Mission.