BSMPG is proud to announce the addition of Koichi Sato, Rehabilitation Coordinator/Assistant Athletic Trainer for the Washington Wizards to the BSMPG Everything Basketball Advisory Board.
See the experts in Basketball specific training this May 19/20th in Boston MA at the BSMPG Annual Summer Seminar! Basketball Specific Speakers include Shawn Windle from the Indiana Pacers, Andrea Hudy from the University of Kansas, Logan Schwartz from the University of Texas and many more!!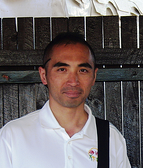 KOICHI SATO
Washington Wizards
Koichi Sato is in his fourth season as Rehabilitation Coordinator/Assistant Athletic Trainer for the Washington Wizards.
Prior to joining Wizards, Sato worked as athletic trainer/performance specialist for Levi Jones of Cincinnati Bengals in 2007-08. Sato was athletic trainer/performance specialist at Athletes' Performance in Los Angeles from 2006-07. From 1997 to 2006, Sato provided medical cares to Sun Devil athletes at Arizona State University for nine years as a graduate assistant then assistant athletic trainer. His primary coverage were cross country, football, track & field, wrestling, women's gymnastics and spent last four seasons with Sun Devil men's basketball program. Sato worked for Chicago White Sox organization as a head athletic trainer for Bristol White Sox in the summer of 1999 and for Chicago Bears as an intern athletic trainer in the summer of 2002. Sato also were medical support staff for Olympic medalist such as Dwight Phillips (Long Jump World Champions and Olympic gold medalist in Athens) and Tim Harden (60m World Champion and 4x100m relay Olympic silver medalist in Atlanta).
Born in Koriyama, Japan, Sato graduated from Tokyo International University in 1993 with a B.A. in International Study/Russia & Eastern European Studies. He then graduated from Eastern Illinois University in 1997 with a B.S. in Physical Education/Athletic Training and graduated Arizona State University with a M.S. in Exercise Science/Biomechanics.
Sato is active speaking in sports medicine conferences and workshops both in Japan and the U.S. Sato has spoken in various topics while his primary interest is in movement based systematic approach to management of athletic injuries. Sato also was a faculty associate at Kinesiology Department at Arizona State University and taught advanced athletic training courses.
Sato is member of National Athletic Trainers' Association, Japan Athletic Trainers' Organization (JATO) and National Academy of Sports Medicine. Sato received President's Challenge Award by JATO in 2007.