by Steve Scalzi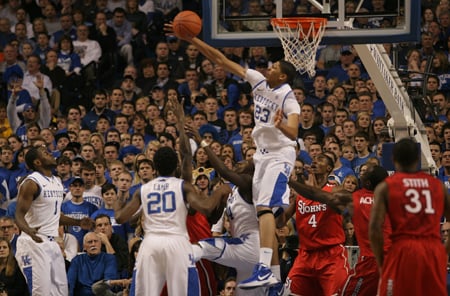 During the lockout summer of 2011, Nike's marketing department sported a "basketball never stops" campaign. Nike capitalized on Kobe, Durant, LeBron, D. Wade et al. barnstorming the country playing in the Goodman League, Melo League and at famed Rucker Park. They reminded fans that, despite the uncertainty of the season, the lockout couldn't possibly hold down the purity of the game and the willingness of the game's greatest to simply pick up and play.

This year, after Kentucky clinched the 2011-2012 National Championship, many basketball purists rolled their eyes to the notion that Coach Calipari, king of the "one and done," system was now a champion. Nike might want to answer to the purists and reprise their "basketball never stops" campaign to: "basketball will go on."

The NBA has their well-established and unbending age limit, and, as David Stern noted this week, it won't be changing anytime soon. With the system set up as is, essentially forcing even the most talented and physically gifted (see: Anthony Davis) through the college ranks, John Calipari has done a masterful job of annually attracting talent to Lexington and melding it together to compete for a national title. Now that he's finally won a championship, all the naysayers and traditionalists who said it couldn't be done must be mute. Is it good for the game? Good for the kids? Has Calipari created an academy churning out professional drones over well-rounded, educated college graduates? The debate of whether Calipari embodies what is flawed about modern-day college basketball can be left for another day.

Basketball will go on. It is our job as coaches, strength coaches, and athletic trainers to shape the next move.

To the readers and minds of BSMPG I have two questions that I hope to be a spring board for ideas, dialogue, and debate.

If you are, have ever been, or strive to be, at the high major level of college basketball, how would the "one and done" system impact the way in which you train your athletes?


Compare these two scenarios: you've been entrusted with Anthony Davis. An absolute monster of raw talent and potential. He's more than capable at the college level to change the entire tenor of a game with his defensive prowess. With added weight and improved agility, he may soon be amongst the best in professional basketball at protecting the rim and finishing around the basket. Knowing what we know now, that there was truth in the hype, as he swept national player of the year awards, would your focus be more on Davis' physical development or simply keeping him healthy enough to compete? How drastically, if at all, would this change your training? Is your responsibility to your current institution only? To ensure he stays fresh and ready to give your school a chance to win a national championship?
Or is it your responsibility to get the player ready for an 82 game grind of the NBA? The calling card of the "ringless" Coach Cal was, while he had yet won the big one, he did right by the player and gave them the best chance at preparing them for the professional game. This extended his brand and combined with Kentucky's winning tradition to create some incredible recruiting advantages.
How would this scenario compare to that of Harrison Barnes at University of North Carolina? Barnes came into his freshmen year perhaps more physically ready to compete at the professional level than Davis. Is this a prime example of a player you would take a relatively hands-off approach with? Ensure he's healthy so that he can perform out on the court and further physical development is pushed to the backburner? From what meets the eye, Barnes appeared to come to campus with a body that was NBA-ready.
Unfortunately for Barnes, his career has shown glimpses of greatness, but is viewed by some as underwhelming compared to the hype. What if you were keeping him healthy, not taxing him physically, but then he is back on campus for his sophomore season? Did you do him a disservice? How would this change your training approach?
What about at the mid-major level? When "one and done's" dominate the media, how do you tell a student-athlete that this career track is unrealistic and virtually impossible?
The supposed "LeBronification" of America has led to high school players loving the drama surrounding their college decision, the increased influence of advising voices, and an unrealistic approach to the college assimilation process. Many coaches refer to "de-recruiting" a player when they arrive on campus. After spending months chasing a player and begging for their services, they finally step foot in the gym where coaches often break them down before once again building them up.
Lost in the recruiting hoopla are simple facts: for a prospective student-athlete to choose their highest offer, it doesn't mean they've arrived, it ensures increased competition at their position. And, for a prospective student-athlete who received high major interest to choose a mid-major school, he's not choosing a lesser level and will thus dominate. The challenges of acclimating to the college game will exist nonetheless and become apparent in practice and in the opening weeks of competition. For coaches, athletic trainers, and strength coaches alike, what role should we play in educating them on the draft process? Players may need to be de-recruited and educated about the virtual impossibility of a "one and done" scenario. What is most glorified on television is not their likely career track.
At Northeastern University, JJ Barea arrived on campus and was immediately named to the America East all-rookie team. He finished out as a four time all-conference team member, was a CAA player of the year, and was a two-time finalist for the Bob Cousy Award (given annually to the nation's best point guard). After graduation, Barea dominated the Portsmouth Invitational pre-draft camp and set a tournament record with 41 assists in 3 games. After his body of work, draft day came and went without him being selected. Don't worry, things turned out alright in the end.
One thing is for certain, it's called the NBA lottery for a reason. Having your name called by the commissioner is akin to winning the lottery. Your odds may be about the same even after an impressive career. It is our responsibility to educate our athletes about the challenges, the work involved, and to remind them, a "one and done" career is nearly unattainable and nowhere close to the norm.
Yes, the champions of college basketball are a collection of "one and done" talent. The notion of a senior-led cast waiting their turn before reaching national prominence does not rule the day. Traditionalists may balk, but basketball will go on. Us coaches and trainers get to shape the direction it's headed, despite the perception that the trend of the nation's elite is the vast majority.