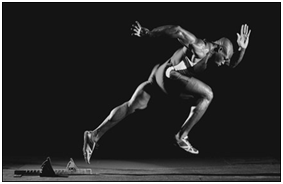 The stop watch is honest.
The tape measure is honest too.
You either ran faster, jumped higher or threw longer or you didn't. It's that simple
When examining the strength and conditioning programming for these sports, if you have not helped in the achievement of these very objective end goals you simply didn't do your job. I know there may be a lot of coaches argue with me, and of course I recognize that there are a multitude of confounding variables that may produce a best result on any given day. Maybe they didn't get a good nights sleep? Maybe they had food poisoning the week prior and weren't able to train? Or maybe they just broke up with their boyfriend?
But at the end of the year, when you have to face the stop watch or tape measure, did you see improvement in these measures? Not an improvement in bench press numbers, or an increase in their lat pull down weight; but an improvement in their sport measures. Did your program fill the gaps that needed filling?
The nice thing about the stop watch is that it never yells at you.


Art Horne is the Coordinator of Care and Strength & Conditioning Coach for the Men's Basketball Team at Northeastern University, Boston MA. He can be reached at a.horne@neu.edu.