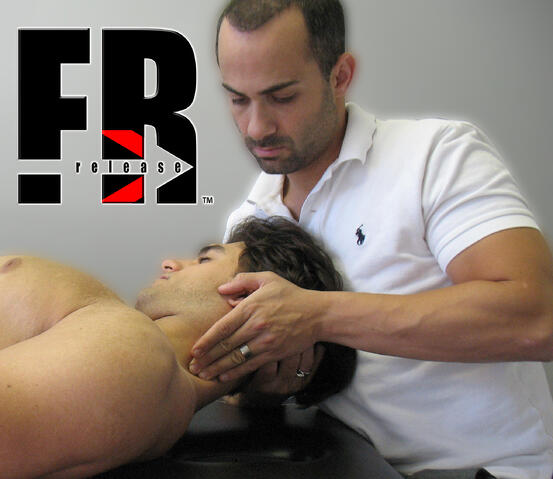 "If a practitioner cannot define what they are feeling for in any realistic, scientific manner, then what is the outcome measures guiding their treatment? By this I don't mean the outcome measure used to define success in the eyes of patients such as pain or range of motion. I mean what is the tactile finding that, on a moment-by-moment basis, guidance the practitioners treatment? How does one know when soft tissue 'release' procedures are appropriate vs. passive modalities? How does one know the needed amplitude and direction of force to apply? How does one know when the treatment is over? These and many other questions require that the practitioner is able to palpably distinguish between normal and abnormal anatomic structure, and further that they have a working definition/understanding of what they are looking for."
- Andreo Spina
Interview by Patrick Ward, http://optimumsportsperformance.com
1) Thanks for taking the time out of your busy clinical and teaching schedule to do this interview, Dr. Spina. Can you please give the readers a short overview of your background??
Sure thing…
I studied Kinesiology at McMaster University in Hamilton, Ontario, Canada. I later graduated with summa cum laude and clinic honors from the Canadian Memorial Chiropractic College as a Doctor of Chiropractic and subsequently completed the two-year post-graduate fellowship in sports sciences. During my time studying Chiropractic, I became the first pre-graduate student to tutor in the cadaver laboratory in the department of Human Anatomy, a position that continued throughout my post-graduate fellowship program.
Stemming from my passion of studying and teaching anatomy, in 2006 I created Functional Anatomic Palpation Systems (F.A.P.)™ which is a systematic approach to soft tissue assessment and palpation. Following the success of F.A.P. seminars, I later created a follow up system of soft tissue release and rehabilitation called Functional Range Release (F.R.)® technique which is now being utilized by manual practitioners around the world including the medical staffs of various professional sports organizations. I then combined the scientific knowledge gained during my studies with my 29 years of martial arts training in various disciplines to create the third installment of my curriculum, Functional Range Conditioning (FRC)™, which is a system of mobility conditioning and joint strengthening.
Aside from my work teaching seminars, I also own a sports centre in Toronto, Ontario where I practice and train clients. I am a published researcher, and I have authored chapters in various sports medicine textbooks.

2) You approach to soft tissue therapy is extremely comprehensive and, after having attending one of your courses before, it is obvious that you have spent a lot of time reading research in order to develop your thought processes and theories about what may be taking place when we apply contact to another person's body. The fascial system is a big part of your approach and the concept of the fascial system and how the body is connected has gained a lot of popularity in recent years. Can you please explain your approach and this concept you refer to as "Bioflow Anatomy"?
To say that the Functional Range Release system has a sole focus on fascia is not entirely accurate actually, although it might have been in the not so distant past. Further examination of literature has led/forced me to be more inclusive of other tissues, which together constitute the most abundant type of tissue in the human body, namely Connective Tissue (CT). Examples of other tissues inclusive in CT other than fascia include bone, cartilage, tendons, ligaments, blood vessels, lymphatic tissues…and even 80% of nerve structure. When contemplating the effects of manual therapy 'inputs,' or even training inputs for that matter, we must be inclusive of all of these tissue types as each of them will equally adapt to applied inputs. To say that with a particular soft tissue technique application I am affecting one tissue vs. another is as inaccurate as claiming that any particular exercise targets a single tissue, which is in fact impossible. This line of thought stems from literature examining the effects of load inputs on cellular/subcellular processes…a topic that we dive into deeply in the FR Release curriculum.
Continue to read the rest of this article by clicking HERE
Thanks to Patrick Ward for this interview!