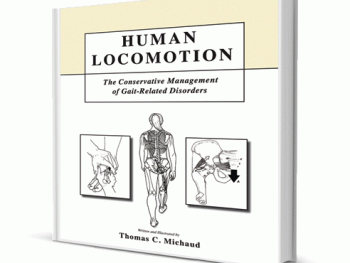 Over the last several years I have been blessed to meet a great number of skilled clinicians and strength coaches from all over the world and most recently was introduced to Tom Michaud (a Boston local) from Craig Liebenson . At a time where each "answer" to my questioning came with it only more questions, my introduction to Tom and subsequently his book couldn't have come at a better time. In his book Human Locomotion, Tom blends his many years of clinical experience with over 1000 references to provide his readers with the most up to date information on matters ranging from Gait, to Structural and Functional Anatomy to Treatment Protocols.
While reading Tom's book I found myself marking many of the pages up with my own treatment notes and "to do's" for a number of athletes that I am currently working with. His overview both biomechanics and pathomechanics as they relate to injury and treatment are pragmatic and of benefit for all those involved in the musculoskeletal injury care.
"Given the fact that different researchers come up with such similar outcomes, the concept of the cruciate ligaments determining motion through the crossed 4-bar link system needs to be reevaluated since the axis of tibiofemoral motion is constantly shifting, often passing through the medial femoral condyle (possibly explaining the frequent prevalence of osteoarthritis as this site). The tilt of the axis forces the medial tibiofemoral joint to behave like a ball and socket while the lateral joint moves with a complex blend of rolling and spinning motions." Pg. 48

(Question: Are you evaluating your athletes and patients that present for anterior knee pain for distorted axes of rotation? If so, are you treating this limitation in various degrees of knee motion since the axis of rotation changes? Like I said… only more questions. The nice thing about Tom's book is that he was able to answer many of the questions that I had without any additional questions.)
Equally as impressive as the book, is Tom's website where you can read a great number of pages from his actual book, including chapter 7 in its entirety, entitled SHOE GEAR. A strong recommendation for all those working with runners and of course runners themselves! With only a few months left to train for the Boston Marathon, Tom's insight into shoe selection and the science behind it will surely have you off on the right step.

Listen to Interview with Tom on Sportsrehabexpert.com


Excerpt from Tom's Book and Website
In the course of a year, more than 1.9 million runners will fracture at least one bone and approximately 50% will suffer some form of overuse injury that prevents them from running. Despite the widespread prevalence of gait-related injuries, the majority of health care practitioners continue to rely on outdated and ineffective treatment protocols emphasizing passive interventions, such as anti-inflammatory medications and rest.
With more than 1000 references and 530 illustrations, Dr. Michaud's text on human locomotion presents a logical approach to the examination, assessment, treatment and prevention of gait-related injuries. Beginning with a complete review of the evolution of bipedality, this textbook goes on to describe the functional anatomy of each joint in the lower extremity, pelvis, and spine. This information is then related to normal and abnormal motions during the gait cycle, providing the most comprehensive description of human locomotion ever published.
Human Locomotion also discusses a wide range of conservative interventions, including a detailed guide to manual therapies, a complete review of every aspect of orthotic intervention, along with illustrated explanations of hundreds of rehabilitative stretches and exercises. The final chapter summarizes state-of-the-art, proven conservative treatment interventions, providing specific protocols for dozens of common gait-related injuries, including Achilles tendinitis, plantar fasciitis, stress fractures and hamstring strains. Whether you are a chiropractor, physical therapist, pedorthist or podiatrist, this text provides practical information that will change the way you practice.