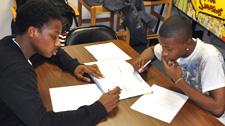 An Update on Boston Promise
by Steve Cassidy
Boston Promise experienced a remarkable first year on the court. Basketball (and academic) skill sessions were held at Basketball City twice a week from April through November. Through grueling sessions focused on fundamentals, players showed marked improvement in their games. On the weekends the program competed in tournaments both locally and regionally. The schedule included such challenging events as the Hoop Mountain Classic and the Gym Rat Challenge which brought in teams from all over the northeast. All the hard work paid off when Boston Promise earned its first tournament championship by capturing the Middlesex Magic Classic in October.
Learn more about the Boston Promise approach and values by visiting their website.
Boston Promise:
Our mission is to assist Boston's youth basketball players in fulfilling their promise as scholars, athletes and leaders in their communities. We aim to increase these young players' opportunities for higher education by providing them with the knowledge and experiences that will prepare them for college-level academics and basketball.
Learn how you can get involved by clicking HERE.