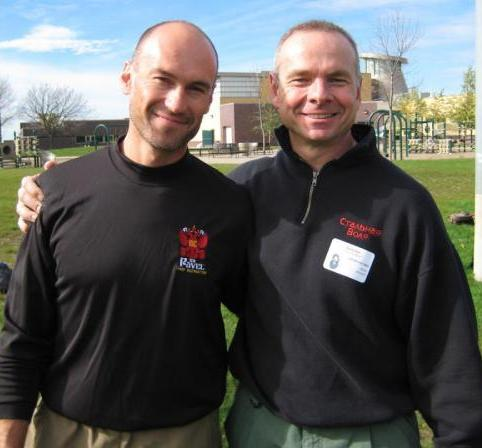 Mark Toomey (right) pictured here with Pavel Tsatsouline.
I first met Mark at an SFMA course this past summer and although I signed up for the two day course and appreciated everything the course had to offer, I found myself returning for the second day solely to speak with Mark. To say Mark is electric and a true master of his trade would be a severe understatement – his energy and world experiences in elite level training along with his many experiences with rehabilitation is sure to enlighten and invigorate all those that hear him speak. Along with Dr. Di Muro, Mark's presentation will explore how best to approach pain management, rehabilitation and training from a truly integrated and patient centered approach.
Conference Agenda and Registration details for Standing On The Shoulders Of Giants, are coming soon.
Be sure to save the date and plan on joining us June 3rd and 4th in Boston this coming summer.

Art Horne is the Coordinator of Care and Strength & Conditioning Coach for the Men's Basketball Team at Northeastern University, Boston MA. He can be reached at a.horne@neu.edu.