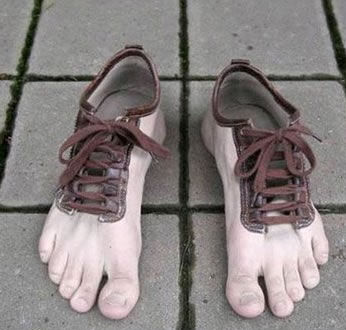 Fashion apparently has greater influence than reason
Take a look at your own foot and specifically the space between the toes. Do any of them overlap? If you examine the feet of barefoot people, one universal characteristic that holds true among them is the very large space between the first and second toe. As Hoffman clearly points out, the toes of the barefoot people are in direct line with their metatarsals which of course would mean that our foot should look a lot like a triangle (with the apex being the heel and the base of the triangle created by the line drawn from the first phalanx to the fifth). It is exactly at this juncture that modern shoes are made the narrowest, obviously created from our narrow sense of fashion.
Read more from Barefoot in Boston by ordering your copy from Amazon.com today!