BSMPG is proud to announce Sean Skahan as a speaker within the Hockey Specific Training Track for the 2012 BSMPG Summer Seminar, May 19-20, 2012 in Boston MA.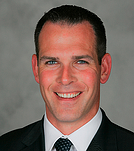 SEAN SKAHAN
Anaheim Ducks - NHL
Sean Skahan enters his tenth season as the Strength and Conditioning Coach for the Anaheim Ducks. Skahan joined the Ducks in 2002 and is responsible for the overall strength and conditioning program for all players in the Ducks system. Skahan also coordinates all off-ice training at the annual prospect conditioning camp.

Prior to working with the Ducks, he was the Assistant Strength and Conditioning Coach at Boston College for the 2001-02 season where he worked with the hockey team. In 2000-01, he was the Assistant Strength and Conditioning Coach at the University of North Dakota. While earning his Master's degree in Kinesiology, the Massachusetts native worked as a Graduate Assistant Strength Coach at the University of Minnesota from 1999-00. He earned his bachelor's degree in exercise physiology from the University of Massachusetts at Boston in 1998. He also holds certifications from the National Strength and Conditioning Association (N.S.C.A.) and USA Weightlifting.
_______________________________________________________________________________
Famously uttered by Sir Isaac Newton,
"If I can see further than anyone else, it is only because I am standing on the shoulders of giants."
In 2011 BSMPG invited the titans of Sports Medicine and Performance to Boston for the largest conference of its kind, and many attendees left asking the question, "how could you ever top that speaker line-up?" Well, we did. BSMPG is proud to announce May 19-20, 2012 as the selected date for Sports Medicine and Strength professionals to desend upon Boston MA for another monster conference!
So how could we ever top last year's speaker set?
Let's just say that we asked last year's speakers who they wanted to hear and we got em!
Stay tuned over the next few weeks as we reveal our entire 2012 speaker set. As we did last year, this seminar will be divided into three distinct educational tracks including a Hockey focus, a Basketball Focus and a clear Sports Medicine/Rehabilitation Track with Keynote Speakers throughout the weekend bringing each track together for common lectures. Attendees may choose to stay within one track throughout the entire weekend or mix and match to meet their educational needs. Remember to save the date now - you won't want to miss another great summer seminar presented by BSMPG.
May 19-20, 2012 - Boston MA. Complete details coming soon!
Remember to Save the Date for the BSMPG 2012 Summer Seminar - May 19-20th in Boston MA.
A limited number of seats still remain for our DNS "A" course. Sign up now before the last seat is gone!