When it comes to developing the highest level of athletes, few professionals understand what this actually means like Marco Cardinale.
Lucky you - now you can.
Learn from the man that led Britian's Sports Science activities for the Olympic preparation at the Beijing 2008, Vancouver 2010 and London 2012 Olympic Games at the 2013 BSMPG Summer Seminar. As if your time at our annual seminar with Dr. Cardinale and other leaders in sports medicine and performance isn't enough, you'll also be entered to win win a copy of his book,
Strength and Conditioning: Biological Principles and Practical Applications
Like you needed another reason to attend the world's top Sports Medicine and Performance Seminar.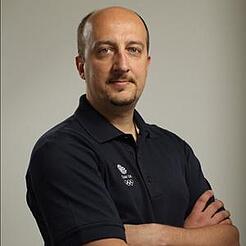 This book provides the latest scientific and practical information in the field of strength and conditioning.
The text is presented in four sections, the first of which covers the biological aspects of the subject, laying the foundation for a better understanding of the second on the biological responses to strength and conditioning programs. Section three deals with the most effective monitoring strategies for evaluating a training program and establishing guidelines for writing a successful strength and conditioning program. The final section examines the role of strength and conditioning as a rehabilitation tool and as applied to those with disabilities.
This book is an invaluable textbook and reference both for academic programs and for the continuing education of sports professionals.
Integrates the latest research on physiological, anatomical and biomechanical aspects of strength and conditioning
Offers numerous practical examples of applications
Provides guidelines for writing and monitoring effective strength training programs
Join the leaders in Sports Medicine and Performance in Boston May 17 & 18, 2013 for the BSMPG Annual Summer Seminar featuring Marco Cardinale, Stuart McGill, Fergus Connolly and Adriaan Louw as Keynote speakers.
Sign up today - discounted rates end December 31st, 2012.