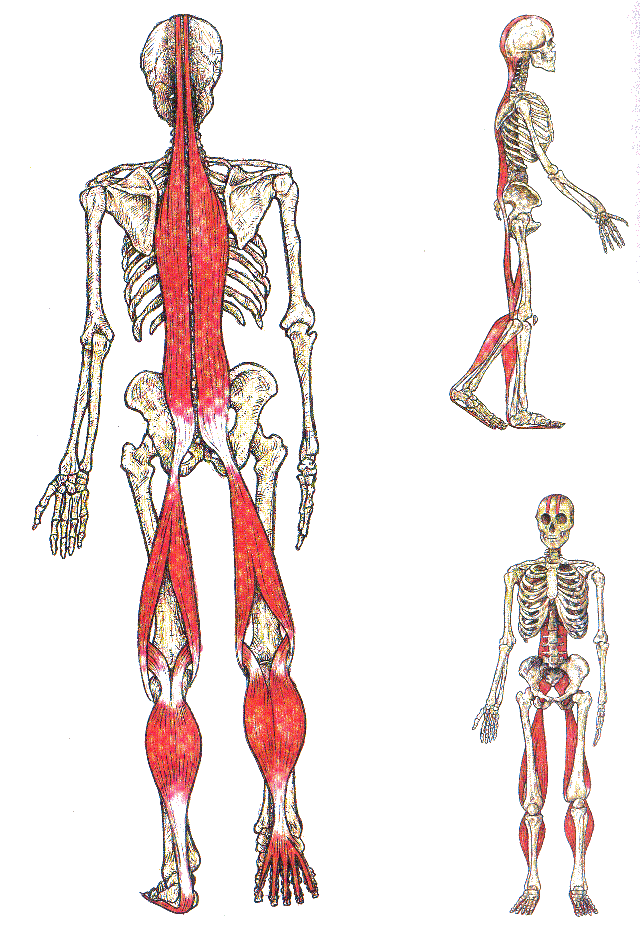 "The plantar fascia, essentially a continuation of the Achilles tendon, attaches from the base of the calcaneus, covers the bottom of the foot, and inserts into all five digits of the foot. This band acts as both a support of the underlying muscles, thereby assisting stabilization of the foot, and a shock absorber for the body. It has been referred to as a prime stabilizer in that it helps prevent collapsing of the mid-foot during the midstance phase of gait as the person's body weight passes over the supporting structure of the foot. Through its connections to the Achilles tendon, gastrocnemius, hamstring complex, sacrotuberous ligaments, erector spinea, and epicranial fascia, the plantar fascia has essentially direct communication with the entire body. Inhibition of the intrinsic foot musculature can often lead to losses of structural integrity within the plantar fascia, which contributes to increased pronatroy stresses at the hip, knee, and ankle/foot complexes, and resultant stabilization issues of the lumbopelvic region. Likewise, poor proximal control of the Thoracopelvic Canister and/or lower extremity pronation tends to overload the plantar fascia, creating many of the common lower extremity compartment and overuse syndromes."
pg. 43
Corrective Exercise Solutions to Common Hip and Shoulder Dysfunction by Evan Osar
Give the gift of health and wellness from BSMPG this holiday season - Choose stocking stuffers such as a previous conference DVD or Barefoot in Boston, the book that has people thinking twice about todays modern shoes!
Looking for a larger present to give? Try giving the gift of registration to the 2013 BSMPG Summer Seminar featuring the world's top Sports Medicine and Performance Training professionals including Dr. Stuart McGill. Discounted rates appy until December 31st!