Mission of the CATAPULT Performance Director Meeting: To provide the leaders in performance training and medical oversight an opportunity to engage with leaders of similar attitude, vision, and entrepreneurial spirit, while pursuing innovative strategies in performance methodology.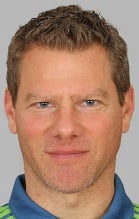 David Tenney was named the Sounders FC fitness coach on January 9, 2009. He is one of Major League Soccer's most respected and highly-regarded fitness coaches following two years in Kansas City. On January 1, 2014, Tenney was named Sports Science & Performance Manager for the Sounders. Tenney's Sports Science & Performance department is the first of its kind in MLS — and is tasked with collecting and analyzing the physiological, physical, and tactical data related to performance, fatigue, and injury prediction. Prior to the Seattle Sounders, Tenney held similar positions with the Kansas City Wizards (now Sporting KC), the George Mason's Men's & Women's teams, and the Washington Freedom (women's professional soccer).
Tenney holds a Bachelor's degree in Coaching Science from George Mason University (VA), and a Master's degree in Exercise Science - Performance Enhancement/Injury Prevention from California University of PA. He also holds a European Soccer 'A' license from the Czech Republic FA, and an NSCAA 'Premier' diploma.
Interview with Dave Tenney on 8weeksout.com by Joel Jamieson
When I first started using HRV with some of your athletes from the Seattle Sounders, what were your initial thoughts as far as the information it was able to provide you with as a coach?
Beyond using HRV, we were also at the time using the Polar T2 system to monitor training loads. However, I was slowly becoming frustrated, because I didn't really know what a "high" measurement meant. Did the players perform too much? Why was a certain player high?
My first thought was that this would be giving me a better indicator of why an athlete would be high or low in his HR response. It filled in a big picture to the puzzle. When you begin to understand the metabolic make-up of your athletes, and then get a good picture in how they typically fatigue, then all the other forms of training monitoring – Polar HR, GPS, etc. – takes on a new relevance

Based on the HRV results and feedback that I was able to give you, what impact did it have on how you approached training the athletes that we were testing? How was this approach different than it might have been if you had not been able to use HRV with those guys?
We could individualize our loading structure so much better. We could make earlier interventions with athletes because the residue of fatigue was there to be clearly recognized. There was less of a "put him out there and hope he makes it through". It also opened up a whole new world of individualization of recovery methods based on the results we were getting.
And, lastly, it helped us really understand what was taking place with a guy. Maybe he didn't look right, lethargic… This gave us the tools to recognize he was fatigued, and he needed us to back off.

Can you give us any specific examples of big changes in performance or fitness or recovery and such that happened with any particular players that were included in that first test group?
The first test group was given some specific recovery methods. We have it programmed well enough now, where we know what athletes need which type of soft tissue therapy post training based on HRV data. We've had our starting center midfielder here, just end the season leading the league in tackles won, and playing over 1,200 more minutes than previous seasons – after having nagging quad injuries that previous two years. I attribute this to how well we managed our system using HRV.
A second example is our right back, who we actually kept on the field and played more than we normally would have because he continued to have very healthy parasympathetic tone. We were deep into our 2010 season, and had multiple games per week, and the coaching staff felt this player needed a rest, because we had no cover for him and couldn't afford to lose him.
I was adamant that HRV indicated there was little residual fatigue there, and other players who had played less needed a rest far more than he did. This player continued on and played every match the rest of the year.
Continue reading this interview by clicking HERE.
Interview with Dave Tenney on Complementarytraining.blogspot.com by

Mladen Jovanović
MJ: I'll hit it straight to the point: you have probably noticed over-emphasis on glycolytic conditioning (300yard shuttles, HIIT, RSA) in contemporary training for sports. What is your opinion on this taking soccer into account? Are we neglecting aerobic training?
DT: Great question!! I do think that we have a lot of coaches who don't really understand the physical demands of the sport, and thus, think that soccer is a very glycolytic sport with long bouts of anaerobic activity. I think the sport is very alactic-aerobic, where the goal should be to utilize the ATP-CP system as energy as often as possible for the short sprints required during the game. Then the athlete should be able to rely on the aerobic system to help replenish these ATP-CP stores, clear any lactate that may be building up within a muscle, and then provide as much energy as possible energy for 12-18km/hr medium-intensity speed that players must cruise around in during a game. If someone needs to rely on the glycolytic system as energy for this speed, then we are in trouble as we progress through a match. The more I delve into this alactic-aerobic idea, I am convinced that when many coaches program high volumes of glycolytic activity, the athletes WILL get a jump in their GPP, which may be mistakenly thought to be specific adaptations. We have college kids who can grind out multiple 300yd shuttles, meaning they can probably last through an insane college pre-season period. But, this doesn't mean that they are specifically prepared to play soccer at a high level from a physical standpoint.
Continue reading this interview by clicking HERE.