BSMPG is proud to bring Landon Evans from the University of Iowa to Boston for the 2014 BSMPG summer seminar! We are officially one week away and are ready for the largest seminar to date!
We are keeping registration open until Monday night - but then its CLOSED!
Sign up today!
See you in a week!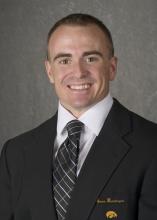 LANDON EVANS
The University of Iowa
SPONSORED BY:
Topic: Applied Nutrition and Hormone Optimization
Landon is in his second year with University of Iowa Olympic strength & conditioning staff.
He also serves as the nutrition coordinator for the teams served by the strength & conditioning department in Olympic Sports. His primary sports are Softball, Men's Sprinters, Throwers and Women's Cross Country Prior to joining the Iowa staff, Evans has been the Director of Sports Nutrition and Assistant Strength & Conditioning Coach at Illinois State for the past two years. He served as the Director of Athletic Development at the Performance Training Center in Beaverton, OR from June 2008– August 2009 and as Associate Director of Strength & Conditioning at Illinois State from January 2005 – May 2008. While a student, he worked in strength & conditioning at Iowa State and Central College.
Evans received a bachelor's of Science in Health & Human Performance from Iowa State in 2005, a master's of Science in Kinesiology and Recreation from Illinois State in 2007 and DPD Concentration in Family & Consumer Sciences, with emphasis on food, nutrition and dietetics from Illinois State 2011. He recently completed a dietetic Internship at Utah State as well.
Landon has also worked with a number of professional athletes who previously or currently compete in the NFL, CFL, AFL, NBA, WNBA, NPF and the Olympics.
He is a Registered Dietitian (RD), Certified Strength and Conditioning Specialist (CSCS) from the National Strength and Conditioning Association, Strength & Conditioning Coach Certified though the Collegiate Strength & Conditioning Coaches Association, as well as a USAW Level 1 Club Coach from USA Weightlifting. He is CPR/AED certified.
Landon resides with his wife, Stephanie, and daughter, Calyn in Coralville, IA.