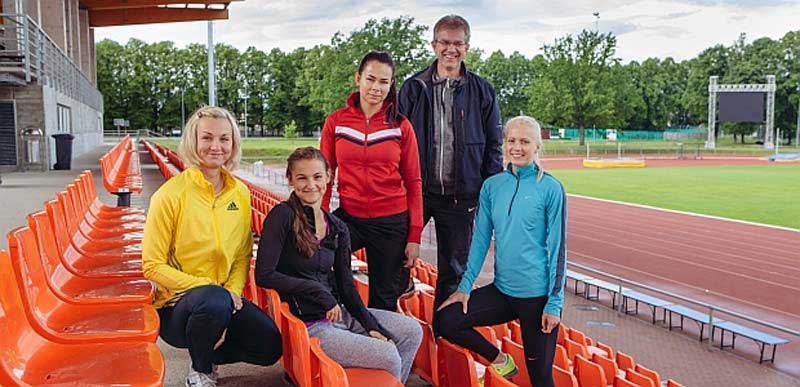 originally published on freelapusa.com
Mehis Viru is an associate professor at the Institute of Sport Pedagogy and Coaching Science at University of Tartu and personal coach for top Estonian hurdles and jumpers. Mehis is also well known as a coauthor to the state of the art textbook "Biochemical Monitoring of Sport Training" that he wrote with his father professor Atko Viru, famous for his pioneer work on endocrine functions in muscular activity and adaptation mechanisms in training. (Credit Windsprint and KM pharma)
Note: Adaptation is the purpose of training, making a real change to the body, not benefiting from talent or better equipment. Dr. Viru is both a sport scientist and coach who can help bridge the gap from training theory and science to applied coaching. Enjoy.
Creating a Comprehensive Biochemical Testing Approach
Freelap USA - Your presentations in Stockholm and Sundsvall focused on the goals of training athlete adaptation changes. Monitoring usually tries to focus on fatigue, and you showed that changes in biochemical status over time may guide coaches better. In the United States, biochemical testing is now cheaper, faster, and more accessible. What would you say is a good frequency of testing for teams and a list of biomarkers to check? Testing every week may leave the team with unhappy athletes, but once a year during a physical will not be enough. What is a good rhythm you see in your experience?
Dr. Viru - Sports training influences an athlete in a wide way starting with changes at molecular level and ending up with changes in functioning of different organs. Therefore, one should not concentrate only to one-two biochemical tests and make deep conclusions according to the results of these tests. Instead, a coach or a sports scientist should try to get an overview of the whole situation by using also physiological, psychological, event specific performance tests. Coach should also follow everyday training session numbers (series and reps, kilograms, meters and centimeters) and athlete's behavior during training sessions. Especially during a warm-up of a training session to better understand the condition of athlete's muscles and tendons and according to the situation more precisely choose the exercises and training load for the concrete training session.
An athlete is a human being that means there are several non-sport factors (financial, study, relationship, and other problems) that may greatly influence athlete's performance. Without having a good trust and communication with your athlete coach, may not know these problems and think that decline in performance is solely due to his inadequate training plans. Some athletes may be too shy to complain his personal problems. In that case training diary where he writes his problems may help.
The details of training monitoring depend on the goals of the concrete training monitoring process. So there cannot be a one single correct answer to the questions how, when, etc.
As monitoring is a purposeful process performed with the aim to increase the effectiveness of training guidance and is based on recording of changes on an athlete during various stages of training or under the influence of main elements of sport activities (training sessions, competition, microcycle or mezocycle of training) the aim of the monitoring determines the frequency and the choice of markers. Training monitoring is a specific process depending on sport event, performance level of an athlete and age/gender peculiarities, health/injury status. Therefore, the methods for training monitoring should be chosen depending on the specificity of a sport event and athlete's characteristics.
Some biochemical markers like lactate are meant for using during training sessions, and some like CK and urea can show the influence of training load during a bit longer period. But the most important is to know what metabolic processes the chosen marker represents, what the limitations of the marker are and how to interpret the results. I have seen athletes (even Olympic champions!) whose fingers were holy like a watering can, as their coaches had become fond of lactate testing and had taken 15-20 samples per day without knowing what they are doing.
Several companies are producing portative systems to measure biochemical markers, but the list is limited. For example urea (an end-product of protein degradation) can be measured by a portative system but if you wish to be more accurate and follow the changes in the turnover rate of contractile proteins (like actin and myosin) you should measure the levels of 3-methylhistidine. But it means you must have access to a biochemical lab. So the choice of markers may depend on the access to different measuring systems and labs.
One can use several biochemical markers for training monitoring, but the main aim of sport training is to increase performance level. It means that event-specific performance tests must have a constant place in training monitoring programs. Again – keep your eye at the big picture and do not stick in 1-2 markers.
Continue reading article by clicking HERE