Nothing says recovery after a conference road win like a stop at the neighborhood Friendly's. I mean, there are some good choices there right?
Double Thick Milkshake – Vanilla 770 cal, 32 grams of fat
"What? It's made from milk?"
Honey BBQ Chicken Strips, 6 strips 1670 cal, 81 grams of fat
"Look, no bun! I'm watching my carb intake"
Chicken Caesar Salad 1030 cal, 84 grams of fat
"Watching your weight? A light salad is perfect"
Happy Ending Hot Fudge Sundae 330 cal, 17 grams of fat
"Hey, we won. Coach says when we win we can order dessert!"
TOTAL 3800 CAL, 214 grams of fat
I'm utterly baffled when I hear stories of sports teams and sport coaches that commit their very souls to winning, the ones that basically sleep at the gym drawing up the winning inbounds play into the wee hours of the night, yet overlook the most controllable factor in all of their training program – Nutrition. It's hard to control a referee's call, a delayed flight, or even whether or not your luggage arrives when you do, but the choice you make for your team regarding where and when to eat is totally within your control. So when your team is running out of gas in the fourth quarter and they can't seem to find the energy to break the press, think about the all-you-can-eat Waffle House you went to for pre-game.
But whatever you do, don't blame Friendly's… that's for post game!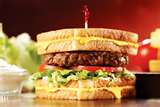 Art Horne is the Coordinator of Care and Strength & Conditioning Coach for the Men's Basketball Team at Northeastern University, Boston MA. He can be reached at a.horne@neu.edu.