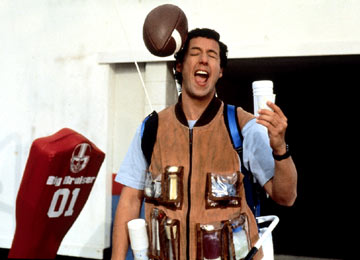 A friend of mine and I were discussing the roles and responsibilities of athletic trainers the other day when he brought up a story about his time in graduate school. He recounted the days where a fellow staff member's (a full-time Certified Athletic Trainer with a Master's Degree no less) only job during the fall semester was to drive from practice to practice filling up water coolers and bottles.
No patient care. No injury evaluation. No Assessment. No Prevention Strategies.
Just Water.
I shared a very different story with him about water service.
I remember a few summers ago when I traveled with our Men's Basketball Team to Canada to play the defending Canadian national champions (six National Championships in the last seven years) - University of Carleton. It was our first day on campus and we were preparing to practice when I noticed our hosts didn't put out any water on the sideline for our team (Carleton was practicing down court and finishing up their practice time). I approached their athletic therapist asking if I could obtain a cooler of water and some cups for practice – a standard practice I would assume across both Canadian and American Colleges.
Just as the words dripped from my mouth I looked a bit closer at the Carleton area and saw about 20 various bottles ranging from gallon sized water containers to reused Gatorade bottles lining their bench. Each and every player had brought their own water to practice. From that moment forward my view on water changed forever.
That was the day I stopped catering.
I'm not saying water isn't important. On the contrary. In fact, I think it's so important that I encourage each and every student-athlete to carry a water bottle with them at all times. You can't expect to just hydrate during practice can you? And if you can carry a water bottle with you all day – because that's how important it is, then you can also bring it to practice can't you?
I was actually scolded by a fellow athletic trainer when I brought up the idea of athletes bringing their own water to practice.
"What if they forgot their bottle one day? What would they do then?"
My response was simple.
What extraordinary patient care are you not delivering because you are so busy delivering and catering water?
If the defending national champions in Canada can bring their own water to practice I think our student-athletes can fill up a bottle and bring some H2O to practice too.
It only takes one time that you forget and you'll never leave that bottle at home again.
Art Horne is the Coordinator of Care and Strength & Conditioning Coach for the Men's Basketball Team at Northeastern University, Boston MA. He can be reached at a.horne@neu.edu.