Joe Maher replaces Pete Friesen at the 2011 "Standing On The Shoulders Of Giants". Joe's been a fixture for a program that has quickly risen to national prominence. Learn how Joe has Yale skating circles around the competition along with Jim Snider, Strength Coach for 2011 Women's Ice Hockey National Champions, Wisconsin Badgers and Russ DeRosa, Strength Coach for the 2010 Men's Ice Hockey National Champions, Boston College Eagles.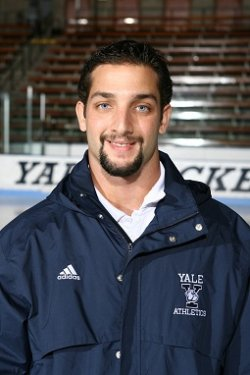 Joe Maher
Joe Maher, a former hockey head coach and player and a sports physiologist, was named Yale's assistant strength & conditioning coach in August of 2007 after serving in a similar role at the University of Richmond for two years. His work with the Yale hockey team has been a significant factor in its ascencion to national prominence. Maher was the assistant S&C coach at Richmond from 2005 to 2007 while also serving as head coach of the U-16AA Richmond Royals hockey club. His Richmond football squad won an Atlantic-10 Championship under his watch.
Prior to that, he was a graduate assistant in the Kinesiology Department at Louisiana State University and a coach at the USA Weightlifting Development Center in Shreveport, La., from 2004 to 2005. Maher, who is the S&C coach for the 2011 U.S. Junior National Team, also served as assistant sports physiologist at the U.S. Olympic Center's Athlete Performance Laboratory. He played hockey at the University of Rhode Island and coached and competed in 2005 Collegiate National Weightlifting Championships.
In addition, Maher, a New Jersey native who has authored numerous articles on S&C and owns a masters in education, coached and co-directed the 2004 American Open Championships, co-directed the 2005 Pan-American Championships and coached the 2005 Junior National Championships. He also worked on Keith Allain's U.S. Team staff during the 2010-11 IIHF World Junior Championships (bronze medal). Maher's certifications include: Strength and Conditioning Specialist (National Strength and Conditioning Association); Weightlifting Senior Coach-In Process (USA Weightlifting); First Aid, CPR, AED (American Red Cross); USA Hockey Level 3 (In-Process of Level 4).