BSMPG is proud to announce Dan Boothby as a speaker within the Hockey Specific Training Track for the 2012 BSMPG Summer Seminar, May 19-20, 2012 in Boston MA.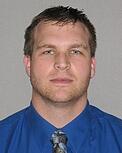 DAN BOOTHBY
Northeastern University
Dan Boothby begins his sixth full season as strength & conditioning coach for the Northeastern University hockey team. Boothby oversees all strength, conditioning and nutrition for the team, and aides in team building and organization.
Boothby was promoted to Director of Strength & Conditioning at Northeastern in 2010.
Boothby has spent the last five years working with Northeastern athletes, having joined the staff as an Assistant Strength & Conditioning Coach in Nov. 2005. He has served as the Director of Player Development for the Northeastern men's and women's hockey teams since July 2006. In his first role, Boothby had the opportunity to design and implement strength and conditioning programs for various Husky athletic teams, including year-round nutrition, weight and injury-prevention programs. Working with the hockey teams, Boothby expanded his role to include budget management and biomechanical evaluations.
Boothby, a National Strength and Conditioning Association Certified Strength and Conditioning Specialist, also holds Dan Boothby Performance Training camps, which are tailored for sport-specific strength and conditioning for all levels, including high school, college, professional and Olympic-caliber athletes. Over the past year, he has been advising Northeastern alumna Zara Northover, who competed in the shot put at the Olympics in Beijing.
Before coming to Northeastern, Boothby served under the Head Strength & Conditioning coach at Central Connecticut State University as an undergraduate intern while playing on the offensive line of CCSU's football team for four seasons.
The Kennebunk, Maine, native graduated from Central Connecticut State in 2005 with a bachelor's degree in Exercise Science and now resides in Allston, Mass.
_______________________________________________________________________________
Famously uttered by Sir Isaac Newton,
"If I can see further than anyone else, it is only because I am standing on the shoulders of giants."
In 2011 BSMPG invited the titans of Sports Medicine and Performance to Boston for the largest conference of its kind, and many attendees left asking the question, "how could you ever top that speaker line-up?" Well, we did. BSMPG is proud to announce May 19-20, 2012 as the selected date for Sports Medicine and Strength professionals to desend upon Boston MA for another monster conference!
So how could we ever top last year's speaker set?
Let's just say that we asked last year's speakers who they wanted to hear and we got em!
Stay tuned over the next few weeks as we reveal our entire 2012 speaker set. As we did last year, this seminar will be divided into three distinct educational tracks including a Hockey focus, a Basketball Focus and a clear Sports Medicine/Rehabilitation Track with Keynote Speakers throughout the weekend bringing each track together for common lectures. Attendees may choose to stay within one track throughout the entire weekend or mix and match to meet their educational needs. Remember to save the date now - you won't want to miss another great summer seminar presented by BSMPG.
May 19-20, 2012 - Boston MA. Complete details coming soon!
Remember to Save the Date for the BSMPG 2012 Summer Seminar - May 19-20th in Boston MA.
A limited number of seats still remain for our DNS "A" course. Sign up now before the last seat is gone!