by Art Horne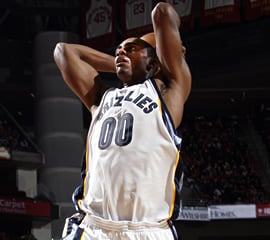 Darrell Arthur suffered a season ending Achilles tear on December 18, 2011.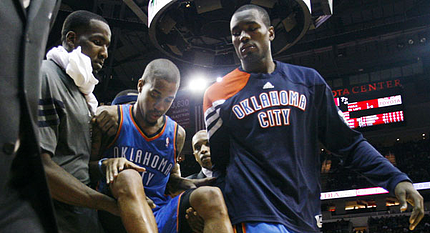 OKC Guard Eric Maynor after a torn ACL on Jan. 7th.
Only the Strong Survive.
We are approaching the one month mark of this current NBA season and there appears to be a terrible trend emerging..... Injuries! (lots of them).
Not since the 1999 shortened season has teams been forced to play a "triple" (three games in three nights) and this year each team is for better or worse, guaranteed two such miserable stretches. Add these 72 hour marathons onto a hasty preseason and you have a recipe for disaster.
This year's NBA season "officially" started on Dec 1st with teams allowing players to return for voluntary workouts a mere 24 days prior to the beginning of the season on Christmas day. But is 24 days (many players including free agents had even less time as they reported to new teams) enough time for players to go from zero to sixty safely?
HISTORY WILL REPEAT ITSELF
This past summer the NFL underwent a very similar lockout situation in which athletes were not allowed access to team training facilities, sports medicine services and strength professionals for treatment and training, and unfortunately, many athletes suffered from this lack of preparation. In an article by Myer and colleagues, the incidence of Achilles tendon injuries following this most recent work stoppage is explored and contrasted against previous NFL seasons.
"Data from a prior report covering 20 NFL seasons (1980 to 2001) indicated an average of approximately 4 Achilles tendon ruptures per year that required surgical intervention." (Myer, p.702)
"This year, following the rapid transition to training camp and preseason practice from the NFL Lockout, 10 Achilles tendon injuries occurred over the first 12 days of training camp, with 2 additional injures occurring in the subsequent 17 days, which included the first 2 weeks of the preseason competition." (Myer, p.703)
".... While it is noted that the preseason rosters were increased from 80-90 players this year, this 12.5% increase in the number of players cannot fully account for a 4-fold increase (from 3 to 12) Achilles tendon ruptures in the preseason. Regardless of the previous data that are used, the number of Achilles tendon ruptures in NFL players this year (15 days of training camp and 2 weeks of preseason) has already exceeded all previously reported numbers of Achilles tendon ruptures that normally occur over an entire NFL season." (Myer, p.703)
THE NEED FOR PRESEASON STRENGTH TRAINING AND APPROPRIATE REHABILITATION
It's no secret that a well-planned off-season strength program along with an integrated pre-season preparation period can not only prepare athletes for the rigors of sport, but also have a protective effect against future injury, and the data supports this.
"Based on their dataset, it is clear that preseason training results in increased athlete safety during the first half of the competitive season. A positive dose-response relationship has been demonstrated, and a minimum of 6-8 weeks of training appeared necessary for induction of positive changes toward enhanced injury prevention profiles." (Myer, p.704)
In a recent article featured on ESPN.com, Michael Wilbon explores this recent trend in NBA injuries:
"It's one thing to suspect injuries might have a big impact on the season, which we began to do the moment the labor lockout led to a shortened training camp, a barely existent preseason and a severely compressed regular season. But it's another to realize it, to see three-quarters of the teams scrambling already to cover for players of consequence missing in action, to see sprains and tears become such a dominant storyline that the team trainer is some nights better equipped than the coach to fill out the starting lineup.
Already, less than a dozen games in for some teams, the NBA could trot out an All-Injury Team of Dwyane Wade and Derrick Rose at guard, Carmelo Anthony and Zach Randolph at forward and Brook Lopez at center that could absolutely reach the NBA Finals. There's even a pretty good All-Injured International Team of Steve Nash and Manu Ginobili, Andrew Bogut, Andrea Bargnani and Luc Mbah a Moute that could finish fairly high up in the standings.
So here's the only prediction I'll boldly make for the rest of the regular season: The coach and staff that best manage their team's injuries will win the NBA championship in late June. Talent ultimately will matter less than health." (Wilbon, ESPN Article)
Continue to read Michael Wilbon's article on ESPN.com HERE
Looking to protect your team against the injury bug?
Come to the BSMPG annual summer seminar and learn what the best sports medicine, strength coaches and basketball professionals are doing to identify injury risk factors, manage injuries in-season and strengthen these athletes to avoid future injury.
Click HERE for list of speakers and complete conference details.
References
Myer GD, Faigenbaum AD, Cherny CE, Heidt RS, Hewitt TE. Did the NFL Lockout Expose the Achilles Heel of Competitive Sports? J Orthop Sports Phys Ther 2011;41(10):702-705.