Join Jose Fernandez and other top Sports Medicine and Sports Performance professionals from across the world as they desend on Boston this May 19th-20th for the 2012 BSMPG Summer Seminar. Choose from a number of specific learning tracks or mix and match to suit your learning needs. Keynote speakers throughout the weekend include Dr. Craig Liebenson, Chris Powers, Alan Grodin, Irving Schexnayder, and Bill Knowles.
Register today for this once in a lifetime event! Seats are limited!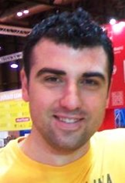 Boston Sport Medicine and Performance Conference
Advanced Athlete Monitoring for Injury Reduction
Jose Fernandez
Abstract:
Professional athletes are experts at what they do, regardless how many S&C sessions they perform a week, they either have the quality to average 20 points per night or they don´t. From a physical perspective, coaches need to make sure their athletes are healthy and available to play every night. A healthy professional athlete should be capable to display a good performance just by being healthy. Everything else that can be achieved with training is a plus.
In a league where teams have to play 3-4 games a week and take more than 90 flights per season, time is limited for coaches to carry out physical training sessions with their players. A training program must be precise, specific and adjusted to the individual needs of each athlete. Coaches should focus on maintaining and reducing the loss of training adaptations throughout the season while enhancing the recovery and regeneration strategies.
At this year´s BSMPG Conference, I will be presenting ideas on how to objectively profile athletes attending to their neuromuscular characteristics and type of muscle fiber predominance. Continuing with this neuromuscular approach to athlete monitoring, innovative ways to quantify effects and duration of the training and treatments will be discussed. Being able to control the rate at which each muscle gains and looses activation after a training session or how exactly certain therapy treatment affects the functionality of any muscle group is crucial if we want to schedule training actions at the right moment, with the aim to maximize the physical performance and minimize risk of injury during the competition.
From an injury prevention perspective, new concepts to evaluate athlete´s readiness to train and assessment of change in muscle response induced by training will also be suggested, with a clear focus on practicality and applicability.
Aiming for maximal performance is a complex task. The purpose of my presentation is to offer some insight into the analysis of an athlete´s neuromuscular condition and how this can help coaches optimize training in an objective, reliable and time saving manner.
I look forward to seeing you at the BSMPG Conference in May!