by Art Horne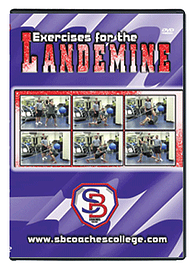 Over the last five years the landmine has become a fixture in almost every strength training center across the country. Although this piece of equipment surely has its merits when it comes to developing ground based and functional core strength, many performance coaches currently use it for only a handful of exercise selections with the majority of exercise variations coming from handle selections or foot position only, and not a true change in movement pattern or muscle emphasis. At a cost of around $250, performance coaches need the landmine to become a one stop functional resource – and now they can!
Exercises for the Landmine by SB Coaches College featuring Shawn Windle of the Indiana Pacers, demonstrates exercise variations ranging from kneeling or beginning exercises to more dynamic multi-joint and multi-planar exercises. Many of the variations and exercises demonstrated within this video I never thought could be used with the landmine including the snatch, deadlift variations and standing rotational press.
With an endless number of exercises and variations demonstrated throughout this video with key points discussed by Shawn Windle, this video is a must for coaches looking to purchase a landmine for their performance center in the near future and for all those that are currently using this piece of equipment on a limited basis only.
See Shawn Windle present at the 2012 BSMPG Summer Seminar May 19-20th in Boston.
Register today before seats are sold out!