Co-Presenters at the 2011 BSMPG Summer Seminar, Dr. John DiMuro and Mark Toomey return to Boston in May for the 2012 BSMPG Summer Seminar for a series of lectures that are sure to provide attendees with a number of monumental "ah-ha" moments as they show with fluoroscopy EXACTLY what is happening during exercises in both your rehabilitation and performance training programs.
The difference between what you thought was happening during simple exercises and what is actually occuring at each joint will have you thinking twice before you prescribe your next exercise program or therapeutic intervention.
Click HERE to listen to a recent interview with Dr. DiMuro and Mark Toomey on SportsRehabExpert.com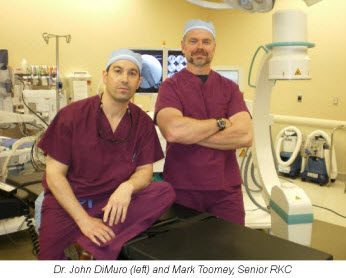 Dr John DiMuro DO, MBA
Dr. DiMuro is a Board Certified Anesthesiologist and Pain Medicine expert who specializes in advanced interventional pain treatments for all types of pain conditions. He grew up in central New Jersey prior to attending medical and business school in Philadelphia . He has an M.B.A. in health care management from St. Joseph 's University and completed his internship at the Tampa Bay Heart Institute. He was chief resident during his Anesthesiology residency at Georgetown University in Washington , D.C. prior to completing a pain medicine fellowship at the world-renowned Memorial Sloan-Kettering Cancer Center in New York City . He currently serves on the Carson Tahoe Hospital Cancer Committee. He continues to work in private practice and lectures nationally for the Kimberly Clark Company and Boston Scientific.
Mark Toomey, Sr RKC, CSCS
Mark Toomey is a fitness instructor from Reno , Nevada . He serves as a Subject Matter Expert (SME) in fitness and conditioning for the United States Navy and the United States Marine Corps. He is the Director of Operations for Dragon Door Publications, a producer of cutting edge material on strength and conditioning and acts as a Senior Instructor for the RKC, the first and largest entity specializing in kettlebell and body weight exercise instruction. Mark is an NSCA Certified Strength and Conditioning Specialist and a certified CK-FMS practitioner.
Be sure to register for the 2012 BSMPG Summer Seminar today before they sell out!