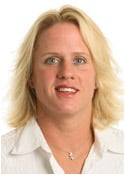 University of Kansas Strength & Conditioning Coach
Andrea Hudy
When the 7-foot center Jeff Withey showed up on the Kansas campus in 2009, he was a gawky San Diego kid who weighed a shrimp taco or two above 200 pounds. So how did he develop into the bruiser who has helped put the Jayhawks into the NCAA tournament's Final Four?
Withey credits two people. The first is Kansas assistant coach Danny Manning, a Jayhawk legend who won the 1988 national title, was selected No. 1 in the NBA draft and recently was named Tulsa's new coach. The other is a blonde-haired former college volleyball player named Andrea Hudy.
Withey describes her as "one of our secret weapons."
Click HERE to continue reading.