If you haven't been living under a rock you know that the annual Boston Marathon took place this past Monday, April 16th. With it came over 25 000 registered runners and thousands more non-registered runners tackling heartbreak hill and the 26.2 mile Boston course. Although many of the leaders looked strong heading into the final mile, thousands more never experienced the thrill of victory but instead suffered the agony that so many runners face on a daily basis - a running injury that either limits or completely stops their running.
So what caused this running injury? The answer might surprise you - it's the way you hit the ground!
Learn more about why you continue to ice your knees and shins and how you may be able to avoid these pains in the future with only a simple change in your stride.
Below is a summary of Professor Davis' article:
Do Impacts Cause Running Injuries? A Prospective Investigation
By Irene Davis, Bradley Bowser and David Mullineaux
"Up to 79% of runners sustain an injury in a given year. Approximately 80% of shod runners are rearfoot strikers. It is plausible that rearfoot strikers with increased impact loads, may be at greater risk for the development of an injury that those with lower loads. In summary, previous studies have documented higher impact loading in runner with a history of injury. However, these studies were retrospective in nature and cannot establish causative relationships. Therefore, the purpose of this prospective study was to compare the impact loads of rearfoot strike runners who go on to develop a running injury to those who have never been injured. It was hypothesized that runner who went on to develop a running- related injury would have higher vertical impact peaks, vertical average loadrates, vertical instantaneous loadrates and peak tibial shock."
Davis and her group went on to recruit 240 female rearfoot strike runners aged 18-40 who ran a minimum of 20 miles per week. Data was collected including ground reaction forces, vertical average loadrate, peak vertical force, etc. Running mileage and injuries were reported monthly for 2 years.
"Our injury findings were consistent with previous literature. It has been reported that between 20-80% of runners get injured in a given year, and 57% of our runners sustained a prospective injury. In terms of injury distribution, iliotibial band syndrome, anterior knee pain, tibial stress syndrome, and plantar fasciitis were also among the top five injuries in much larger study of 2002 runners.
As hypothesized, all impact loading was greater in the injured runners compared with the never- injured group. All impact variables were significantly higher, except for VILR. Interestingly, FZ, the peak value of the vertical force, was identical between groups. This further underscores the importance of impact loads in the development of these injuries."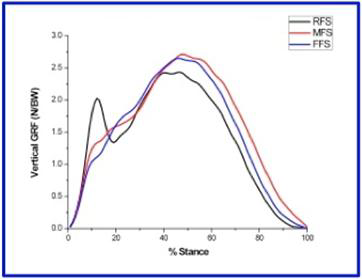 Sudden impacts are BAD! Notice the sudden spike with the RFS?
(RFS=Rearfoot Strike, FFS = Forefoot Strike, MFS = Midfoot Strike)
"The fact that all running injuries were included increases the significance of these results. While it is recognized that the etiology of running injuries is multi-factorial, this suggests that impact loading may be global indicator for the development of an injury. Based upon the odds ratio for VALR, reducing impacts is likely to result in an overall reduction of injury risk. Based on previous sports, adopting a midfoot or forefoot strike pattern will reduce these impacts. However future studies of injury patterns in midfoot and forefoot strike runners are needed."
Want to avoid these sudden impacts associated with injury? Better think about adopting not only a different gait, but also a different pair of shoes. Many modern running shoes have heels that are simply so thick that they prevent you from making contact with the ground in any other way than with the heel - and thus the dreaded impact forces!