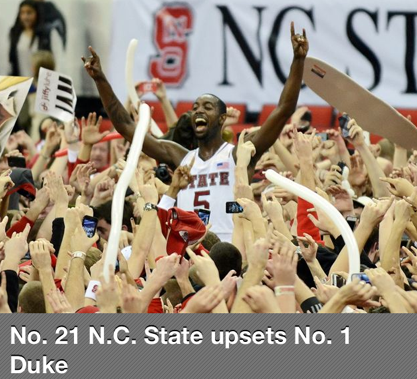 If you haven't been living under a rock you already know that the Duke Basketball team suffered their first loss of the season at the hands of the NC State Wolfpack!
Learn how NC State Strength Coach, Bobby Alejo has the Wolfpack back on top of college basketball at the 2013 BSMPG Summer Seminar May 17 & 18th.

BOBBY ALEJO
North Carolina State Wolfpack
Assistant Athletics Director for Strength and Conditioning Bob Alejo oversees all of the strength and conditioning efforts of the department, and coordinates the day-to-day efforts of the men's basketball team.

Prior to joining the Wolfpack staff in April, Alejo served as the Director of Strength and Conditioning for the Oakland A's, a position he also held from 1993-2001. In that role, he was responsible for all aspects of the organization's year-round physical preparation at both the major league and minor league levels.

Prior to rejoining the A's, Alejo was the Director of Strength and Conditioning at UC Santa Barbara from 2005-2008. During that time he was also a member of the 2008 U.S. Olympic Team as strength and conditioning coach for the Gold medal-winning men's beach volleyball team of Todd Rogers and Phil Dalhausser.
Thanks again to our Diamond Sponsors!