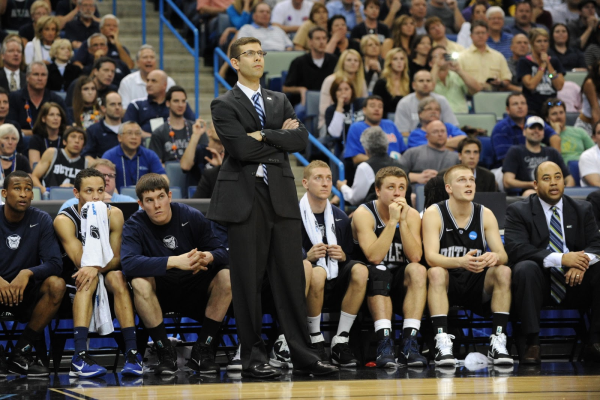 by Jason Belzer, Contributer to Forbes.com
Over the better part of the last decade, no team has captivated the attention of sports fans across the country like the Butler University Bulldogs. A living embodiment of the mythical Hoosiers, the small school in Indianapolis has risen to the echelons of college basketballs elite over the last several years using modest resources and a budget substantially less than those teams it defeats on a regular basis. Time and again the Bulldogs manage to win games they shouldn't with a roster of players who received little recruiting interest from blue-blooded programs like Duke and Kentucky. All the while, behind the curtain stands their mysterious young coach, Brad Stevens, concocting his next delightful magic trick.
While many have offered their own fleeting opinions as to why Butler has been so successful, the true answer has remained an enigma. To begin to unravel the mystery, one must dive deep into they culture of the school, athletics program, coaches and its players.
Almost 100 years ago, the legendary Paul "Tony" Hinkle began what would become a legendary half century reign over the Butler athletics program and community. A true renaissance man, Hinkle accumulated an incredible 1060-800-16 record over the course of his career coaching the Butler football, basketball and baseball teams. While the future "Wizard of Westwood", John Wooden, was still perfecting his jump shot as a player up the road at Purdue, Hinkle was performing his own wizardry, leading the Bulldogs to two national titles and a reputation as "Big Ten Killers". Even then, the small school from a small Midwest city was slaying giants.
The impact Hinkle had on the Butler program goes beyond just wins and losses. Under his leadership, Butler developed not only the first true culture of success in sports, but among modern day organizations as we know. Hinkle passed down his teachings to his coaching proteges and players throughout the years, the programs culture propagating into all aspects of the Butler community. Barry Collier, former head coach and now athletic director of the Bulldog program, eventually formalized the program philosophies by creating five pillars collectively called, "The Butler Way":
Humility – Those who humble themselves will be exalted;
Passion – Do not be lukewarm, commit to excellence;
Unity – Do not divide our house, team first;
Servanthood – Make teammates better, lead by giving; and
Thankfulness – Learn from every circumstance
Continue reading article by clicking HERE.

Join Level 5 Leaders from across the globe at the 2013 BSMPG Summer Seminar - Where the Leaders in Sports Medicine and Performance get their information.
Special thanks to our sponsors: