BSMPG is proud to announce Jon Lowther as a speaker within the popular Sports Medicine and Rehabilitation Track at the 2013 BSMPG Summer Seminar - May 17th and 18th, 2013! Jon joins BSMPG's largest and most comprehensive speaker set to date including Stuart McGill, Charlie Weingroff, and Mark Lindsay to name only a few. With the greatest speaker line-up assembled to date, the 2013 BSMPG Summer Seminar will be the WORLD'S most sought after Sports Medicine & Performance Seminar to date!!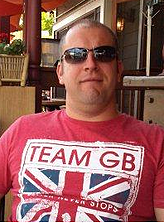 JON LOWTHER
Sponsored by:

Topic: The Science of Breathing
This lecture begins with the basic principles of breathing during exercise to outlining the most complex physiology mechanisms that the work of breathing undergoes during exercise. Discussing general misconceptions of respiration during exercise to the unravelling of the most uptodate thinking on how and why breathing is a limiting factor. A discussion on the training methodology on the respiratory muscles and how best to apply it to your sport.
Jon is POWERbreathe International Ltd.'s (PBI) specialist in Performance Sports / Sports Science & Healthcare/Medical products and markets, having spent over 6 years working with Human Performance / Sports Scientists, Academics, Professional Sports Coaches and leading Fitness Trainers at our sister company HaB International Ltd (HaB) a leading supplier to sports professionals, sporting institutions and fitness consumer markets in the UK and Internationally
Jon has gained great knowledge in the field of Inspiratory Muscle Training (IMT) and Better Breathing, Respiratory Care i.e. Jon is also actively involved in helping to launch new and innovative ideas into the global Healthcare and Medical sectors, resulting in a significant increased demand to present and demonstrate POWERbreathe IMT and Better Breathing products to respiratory/pulmonary departments, consultants, doctors, nurses, physiotherapists and medical organisations in regards to how they should implement Inspiratory Muscle Training and mucus clearance with POWERbreathe into their COPD and other healthcare programs.
Over the past 22 years HaB has become recognised as the UK's leading supplier of Innovative, Quality and Category Leading Sports, Fitness and Human Performance Testing, Monitoring and Training equipment and services sourced from around the World. This has also led to Jon gaining extensive experience working with UK's leading professionals at Universities, Sports Teams for example: the English Institute of Sport, Team GB and England Cricket amd most of the English Premier Soccer Clubs.