BSMPG is proud to announce Jose Fernendez as a speaker within the Sports Medicine & Rehabilitation Track for the 2012 BSMPG Summer Seminar, May 19-20, 2012 in Boston MA.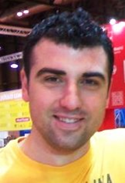 JOSE FERNENDEZ
Topic: Advanced Player Monitoring for Injury Reduction
Jose Fernandez graduated with Honours in Physical Education and Sports Science at the University of Madrid prior to obtaining a PostGradDip in Strength and Conditioning Training as applied to Young and Professional Athletes.
In 2007, Jose left his homeland in Spain and moved to the UK, where he has been working as external consultant in the field of Injury Prevention and Rehabilitation with some of the most important teams and organizations in the country like Manchester United FC, Chelsea FC, Manchester City FC, Newcastle United FC, Liverpool FC, Inter Milan FC, UK Athletics, SportScotland-Scottish Institute of Sport and Think Fitness-Football Injury and Performance Clinic, among others.
During the 2010/11, Jose returned to work in Basketball after accepting a job as Director of Strength and Conditioning at Mersey Tigers, a Liverpool based club competing in the Professional British Basketball League who became the first team in the history of the competition to win a treble in the same season. Jose still continues to collaborate with the team on a part time basis while reconciling his work in the consulting field.
Jose´s main areas of interest are "S&C training for Team Sports", "Monitoring Training Load in Professional Sports" and "Application of new technologies for Injury Prevention and Performance Enhancement".
_______________________________________________________________________________
Famously uttered by Sir Isaac Newton,
"If I can see further than anyone else, it is only because I am standing on the shoulders of giants."
In 2011 BSMPG invited the titans of Sports Medicine and Performance to Boston for the largest conference of its kind, and many attendees left asking the question, "how could you ever top that speaker line-up?" Well, we did. BSMPG is proud to announce May 19-20, 2012 as the selected date for Sports Medicine and Strength professionals to desend upon Boston MA for another monster conference!
So how could we ever top last year's speaker set?
Let's just say that we asked last year's speakers who they wanted to hear and we got em!
Stay tuned over the next few weeks as we reveal our entire 2012 speaker set. As we did last year, this seminar will be divided into three distinct educational tracks including a Hockey focus, a Basketball Focus and a clear Sports Medicine/Rehabilitation Track with Keynote Speakers throughout the weekend bringing each track together for common lectures. Attendees may choose to stay within one track throughout the entire weekend or mix and match to meet their educational needs. Remember to save the date now - you won't want to miss another great summer seminar presented by BSMPG.
May 19-20, 2012 - Boston MA. Complete details coming soon!
Remember to Save the Date for the BSMPG 2012 Summer Seminar - May 19-20th in Boston MA.
A limited number of seats still remain for our DNS "A" course. Sign up now before the last seat is gone!