BSMPG is proud to announce Joel Jamieson as a speaker within the Hockey Specific Training Track for the 2012 BSMPG Summer Seminar, May 19-20, 2012 in Boston MA.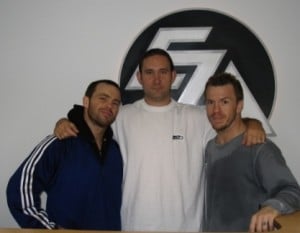 JOEL JAMIESON
8Weeksout.com
Topic: Allostatis and the Training Process
Joel Jamieson is widely regarded as one of the world's foremost authorities on strength and conditioning for combat sports. He has more than 7 years experience working with many of the top athletes in the sport and has trained over 30 of the biggest names in MMA, including 7 world champions.
He formerly served as the Director of Strength & Conditioning for Pride FC and currently works in a similar capacity for Dream. Prior to his work in MMA and combat sports, he spent time training D-1 football players and worked in the NFL with the Seattle Seahawks. He has trained countless teams and athletes from the NFL, MLS, NHL and NBA and Olympic competitors from 5 different sports.
Joel is also the founder of www.8weeksout.com and author of the highly acclaimed book, "Ultimate MMA Conditioning." Since its release in 2009, it has been sold in more than 103 countries and widely regarded as the definitive book on the subject. He is a regular featured contributor to Fight! Magazine, Fighting Fit (UK) Sherdog.com, Men's Health, Muscle & Fitness and his training programs and articles have been featured in a variety of online and print media throughout the globe.
_______________________________________________________________________________
Famously uttered by Sir Isaac Newton,
"If I can see further than anyone else, it is only because I am standing on the shoulders of giants."
In 2011 BSMPG invited the titans of Sports Medicine and Performance to Boston for the largest conference of its kind, and many attendees left asking the question, "how could you ever top that speaker line-up?" Well, we did. BSMPG is proud to announce May 19-20, 2012 as the selected date for Sports Medicine and Strength professionals to desend upon Boston MA for another monster conference!
So how could we ever top last year's speaker set?
Let's just say that we asked last year's speakers who they wanted to hear and we got em!
Stay tuned over the next few weeks as we reveal our entire 2012 speaker set. As we did last year, this seminar will be divided into three distinct educational tracks including a Hockey focus, a Basketball Focus and a clear Sports Medicine/Rehabilitation Track with Keynote Speakers throughout the weekend bringing each track together for common lectures. Attendees may choose to stay within one track throughout the entire weekend or mix and match to meet their educational needs. Remember to save the date now - you won't want to miss another great summer seminar presented by BSMPG.
May 19-20, 2012 - Boston MA. Complete details coming soon!
Remember to Save the Date for the BSMPG 2012 Summer Seminar - May 19-20th in Boston MA.
A limited number of seats still remain for our DNS "A" course. Sign up now before the last seat is gone!