by Adam Naylor, EdD, CC-AASP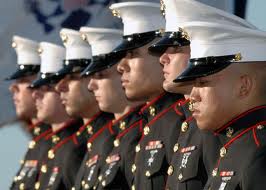 The United States armed forces do a tremendous job teaching men and women a variety of performance and life skills. I had the opportunity to sit down with university Marine ROTC commanders and cadets to discuss the development of high performance programming. The meeting struck me with a tremendous lesson in leadership for sports coaches.
You may have seen many tough as nails, drill sargents glamorized in the movies… have all kinds of wild images about hell week at Quantico dancing in your head… but do you have a good sense of coaching done Marine-style? I sat at a conference table with two commanders and three cadets. There was definitely a rank and order to the room, but strength and leadership emanated from all corners. The commanders had some ideas, checked to see if their ideas meet the cadet realities, asked the cadets for their ideas, made decisions together, and made it clear that the cadets will lead battalion actions and performance.
Marines are tough and are built to battle. They are not abusive in their coaching style, but rather collaborative and empowering. There's nothing soft about a leader that recruits strength and leadership from within the team… one can argue it's the coaching style that creates the bravest competitors to walk the planet.
Meet Adam Naylor and other leaders in Sports Medicine and Performance Training at the 2013 BSMPG Summer Seminar - the only seminar where our attendees are speakers at other conferences!
Previous posted Feb 10, 2012 at the Professional Sport Psychology Symposium blog – http://prosportpsychsym.wordpress.com