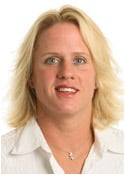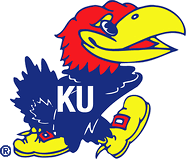 There are people that talk the talk, and then there are the people that actually walk the walk. Andrea Hudy is the latter (and she probably does it Farmer Walk Style!)
Coach Hudy has put more kids in pro uniforms and judging on the way her Jayhawks played in the national championship game this past year, they'll be plenty more Kansas alums rocking the NBA hardcourt next season. See Coach Hudy at the 2012 BSMPG Summer Seminar as she headlines a list of the country's top basketball performance coaches including the NBA's Indiana Pacer's Shawn Windle, University of Texas Logan Schwartz and Keith D'Amelio (formally Stanford and Toronto Raptors Strength Coach - currently with Nike).
Read why KU found the right fit with strength coach Andrea Hudy below.
article by Tom Keegan
New Orleans — Such silly, dangerous things can happen in the weight room, where steel clangs and challenges fly.
And then there is the facility supervised by Andrea Hudy, strength and conditioning coach for the Kansas University men's and women's basketball programs.
So much science goes into the planning of the workouts, the study of the progress each individual makes. Decisions are made with intellect, not emotion.
Well, most of the time anyway.
Former Kansas University reserve guard Jeremy Case, now an assistant coach at Southeastern Missouri State, is fuzzy about the details. He just remembers feeling "terrible" about what happened. Still does.
Hudy recalled more details, perhaps because pain has such a long memory.
Hudy said Case complained he couldn't possibly do four repetitions of the weight she prescribed.
"It was a bet," Hudy said. "I said 'If you do that four times, I'll do a multiple-fatigue set for 30 reps.' He said, 'You're on.' I took the bar off the rack, lowered it and I heard it (her shoulder popping.) Everybody heard it. I said, 'I hurt my shoulder.' He said, 'You can't stop now.' I said, 'All right, I'll prove it to you.' Twenty-nine reps later, I ended up in the training room."
It's a painful memory for more than just Hudy.
"Next day her arm's in a sling," Case said. "Damn, I feel so bad. Just goes to show how tough coach Hudy is. She's no ordinary lady. Really tough lady."
Hudy suffered a torn rotator cuff and torn labrum.
"I lost the battle, but I won the war," Hudy said. "He didn't think he could do four reps, and he did six."
Click HERE to continue reading this article....